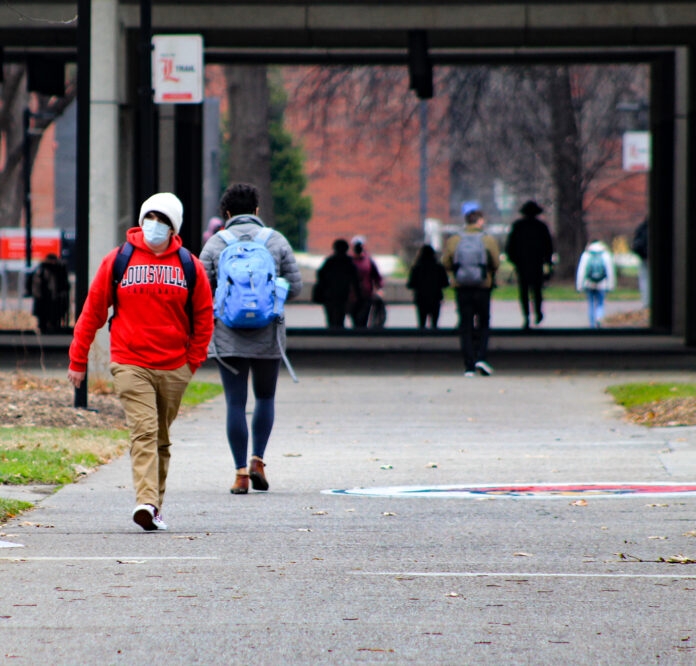 Faculty Senate met virtually on Feb. 3 via Microsoft Teams and were joined by President Neeli Bendapudi.
Bendapudi presented senators with updates from her meeting with the Counsel on Postsecondary Education, which oversees all Kentucky higher education institutions. The counsel assesses all colleges and universities on 29 different metrics of progress. Bendapudi was proud to report that since the 2015/2016 academic year, the university has improved on 26 of the 29 measured metrics. Adult learners over the age of 22, diversity of tenure track staff, and student performance in English were among those areas with room for growth.
Bendapudi stated, "I want to point out that we were the top-ranking university in the Commonwealth for English but relative to where we were (in 2015/2016), there is room for improvement. We are certainly going to be looking at those three areas moving forward."
In addition to these accomplishments, UofL was the only institution in the Commonwealth to see an increase in enrollment. The university also reported its highest graduation rate with over 60% of students completing degrees within 6 years. Bendapudi attributed the approximate 2.5% growth in enrollment and the record high graduation rate to the hard work of all faculty and staff.
Senators were also informed about an upcoming event with guest speaker, Simon Sinek. Sinek is a renowned speaker, author, and presenter of the third most watched TED Talk of all time. To celebrate the launch of the new Employee Success Center, President Bendapudi will host a virtual fireside chat with Sinek on Feb. 22 at 1 p.m. Faculty and staff were encouraged to attend and learn more about the new Employee Success Center, which aims to improve workplace culture and employee engagement through leadership training, mentoring and coaching. Employees can register for the free virtual event here.
Executive Vice President and University Provost Beth Boehm provided updates from the Academic Scenario Planning committee. While decisions have not been finalized, Boehm informed senators that there will most likely be an increase in face-to-face instruction during the fall of 2021. A majority of summer courses will be offered remotely, with the exception of some STEM courses that require in-person instruction.
Boehm addressed questions concerning current faculty travel policies. The university is following policies recommended by the CDC, which at present do not differentiate between vaccinated and unvaccinated travelers. It was reported that some faculty members have received approval for domestic travel, and a small number of faculty members have also been approved for international travel relevant to their research efforts. Boehm further recommended that faculty avoid planning student involved trips with agencies requiring nonrefundable deposits.
Executive Vice President for Research & Innovation Kevin Gardner reported that 2020 was a strong fiscal year with a record number of research awards totaling more than $170 million. He reported a record $9 million from translational research and innovation. Gardner further commended the university's world-class contributions in translational research and innovation throughout the past fiscal year. 
Gardner highlighted the four UofL researchers and innovators recognized for their work at the second annual EPIC Innovation Awards. Paula Bates, a cancer researcher and serial inventor, was presented with the Innovator of the Year award. Brad Shuck, Theo Edmonds and Laura Weingartner each accepted Trailblazer awards on behalf of their teams for outstanding work in new areas of innovation for the university. 
Committee reports and a video recording of the virtual meeting can be accessed on the Faculty Senate meetings webpage. The next Faculty Senate meeting is scheduled for March 3 via Microsoft Teams.