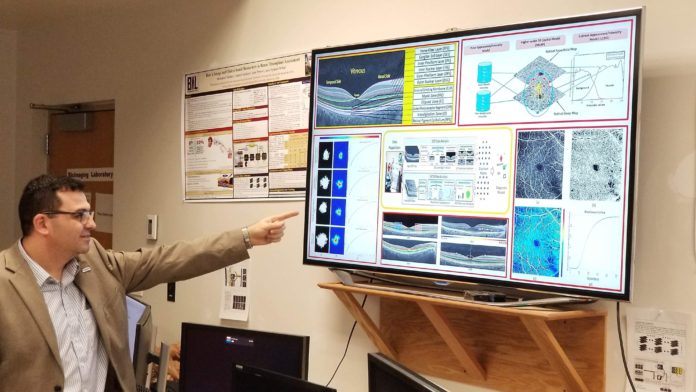 Doctors often analyze scans and images to make their diagnoses. But today, much of the analysis is subjective.
"Hopefully they'll catch it, but what if they miss?" said Dr. Harpal Sandhu, an assistant professor of ophthalmology at the University of Louisville.
That was the inspiration behind new research done by Sandhu and colleagues at UofL, which aims to make the process of identifying diabetic retinopathy more objective by teaching software to diagnose. The results were published in the British Journal of Ophthalmology and the American Association of Physicists in Medicine.
The team used a technique called machine learning to teach the software how to identify the condition, which occurs when high blood sugar levels cause damage to the blood vessels in the eye.
They showed the software pictures of eyes — tons of them, both healthy and unhealthy — until it "learned" what to look for when making a diagnosis. It learned to look for swollen vessels or leaking of blood into the eye, which could cause impaired or even lost vision.
When tested on more than 100 cases, the software got 94.3 percent of the diagnoses correct.
Sandhu said diagnosis of diabetic retinopathy is especially important, given the "epidemic proportions" of diabetes. According to the World Health Organization, the number of people with diabetes rose from 108 million in 1980, to 422 million in 2014.
The software combines two systems developed by the UofL team for optical coherence tomography (OCT) and optical coherence tomography angiography (OCTA). Together, they allow the machine to, non-invasively, get a clear view of the blood vessels in the eye and make a diagnosis.
The software works with a machine used by many optometrists and ophthalmologists to examine patients' eyes. The automated technology could supplement care in areas where medical staffing is low and optical specialists are sometimes unavailable.
"We think this machine could be set up in the family doctor's clinic," said Dr. Ayman El-Baz, professor and chair of bioengineering, who was part of the development team.
He said the technology is part of a "new trend for using artificial intelligence in medicine." Similar research is being done at UofL for diagnosis of other medical conditions, such as lung cancer and organ rejection.
The development was backed by phase one and two grants from the Wallace H. Coulter Translational Partnership, which promotes collaborative translational research, and is currently available for license and partnership through the UofL Office of Technology Transfer.
This project is "a great example of collaboration between engineers and clinicians to address unmet clinical needs," said Jessica Sharon, director of the Coulter Translational Partnership at UofL, adding the resulting technology "has the potential to make a significant impact through commercialization to diagnose disease and improve patient outcomes."