UofL junior Margaret O'Bryan finds the Russian culture fascinating.
So when she won a 2018 Irvin F. and Alice S. Etscorn International Summer Research Award, she was thrilled. The scholarship enables her to spend the summer in Monterey, California, to take part in a Russian Studies immersion program at Middlebury Institution of International Studies.
"I will be expanding my knowledge of Russian and focusing on being able to think like a Russian, not just be able to speak like one," O'Bryan said. "The thought process to understand another language can vary, but comprehending the conversation, understanding the social norms, and then thinking about how to reply or start a conversation are some of the nuances I hope to learn."
Another 2018 Etscorn Award winner,
Elizabeth Peña
, is also working to master a foreign language. A senior communication major and
MLK Scholar,
Peña is devoting her summer to the study of Arabic in Amman, Jordan.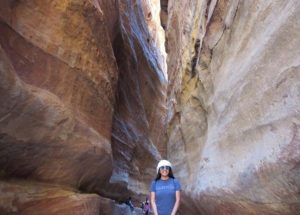 Managed by the University of Louisville honors program, the Etscorn provides undergraduate students with up to $5,000 for summer study and research.
The prize has a certain avant-garde cache because applicants are encouraged to create and submit their own proposal for summer study. In the last three years, for example, Etscorn scholars have:
Conducted cervical cancer research in Uganda
Examined how natives of Thailand negotiate their LGBTQ identities
Studied the impact of Greece's economic situation on socialized health care
Researched biodiversity on reefs in the Yucatan Peninsula
Explored the relationship between government policy and urban planning in the Netherlands
Joy Hart, a communication professor and executive director of the university's honors program, said the Etscorn not only enriches a student's academic experience, it is also a door opener for future prestigious scholarships.
"Due to the generosity of the Etscorn Foundation, UofL students gain valuable firsthand experience living and studying internationally," Hart said. "This experience both accelerates and deepens their learning and makes them more competitive for an array of later opportunities, including graduate and professional schools, careers, and prestigious awards such as Fulbright and Critical Language Scholarship."
Indeed, four of the university's 2018 prominent scholar winners had previously earned an Etscorn scholarship.
For Peña, the Etscorn — and the university's honors program — have been game changers as she prepares for her senior year.
"I continue to be amazed at how the honors program continues to provide endless support and opportunities to reach my goals," Peña said. "I am honored to receive a scholarship that allows me to take courses beyond what is available at the university. Through the help that this scholarship provides, I will be better prepared for a future career in foreign service."