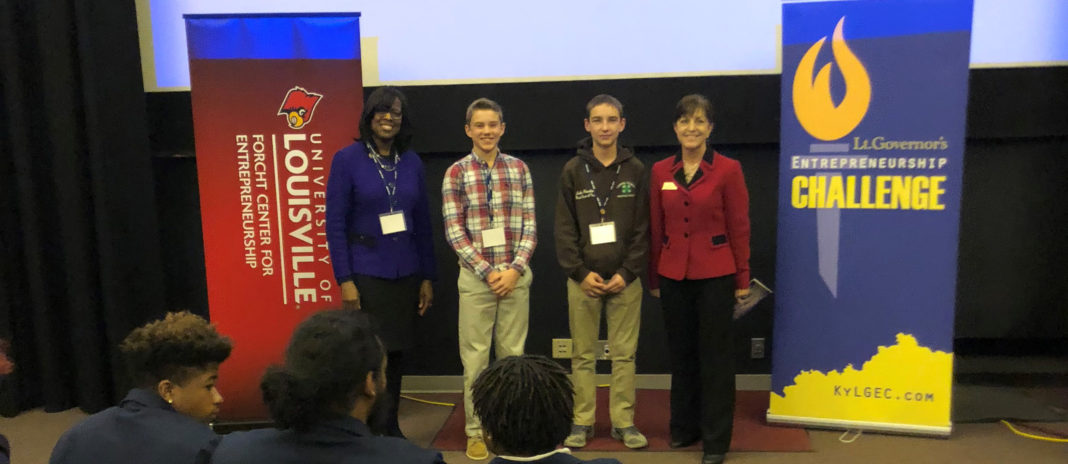 Entrepreneurial high school students pitched their business ideas at the University University of Louisville this week as part of the 2018 Lt. Governor's Entrepreneurship Challenge.
The students, grades 9 through 12, created new products, including ways to clean hot tubs from your smart phone, unlock your car with your fingerprint and laser-cut cheaper musical instruments.
Lt. Gov. Jenean Hampton said she started this competition, now in its second year, to introduce high school students to the mechanics of starting their own business, and "plant the seed" that they can one day become entrepreneurs.
"When kids are exposed to things, they tend to do it," she said. "They can see it; they know they can do it themselves."
The UofL event was one of five regional competitions to determine which teams would advance to the statewide finals at the end of April. There, they will compete for thousands of dollars in scholarships.
The two teams advancing from this region are: BluSpark, which created a bluetooth remote for safely lighting fireworks, and The Helping Tree, which created a new device for carrying multiple bags of groceries without smashing anything.
"An event like this gives young, creative spirits the encouragement and empowerment to change the world – whether through entrepreneurship or though other paths," said Dr. Todd Mooradian, dean of the College of Business. "And that is our mission and our passion."
The Forcht Center for Entrepreneurship in the College of Business co-sponsored the UofL event, along with the Office of Admissions and the Office of Executive Vice President for Research and Innovation.
Judges from the EVPRI also selected a team to win the UofL Product Innovation Award, given to a student startup whose product is particularly innovative and has the potential to advance its industry.
The winner of that award was the CCHS Tardy System, a team of freshmen from Carroll County Schools that created a system to help their teachers more easily take attendance.
"It was very rewarding to see the work that my students put into developing their idea and pitch be recognized by the judges," said Will Yager, the students' adviser and teacher. "I am very excited and Kennedy (Daigle) and Luke (Heveline) are very eager for the opportunities to come as part of their award, being back on campus and working with entrepreneurial, business, and engineering professionals."
The team will get time with UofL experts to talk about prototyping and intellectual property, as well as the opportunity to attend a taping of "Dream Funders," the Forcht Center's pitch competition show.
"We believe in planting the seeds of entrepreneurship at a young age, and these students certainly seemed excited about it," said Suzanne Bergmeister, the center's entrepreneur-in-residence and assistant director. "We wish them all the best of luck in the future and sincerely hope to see some of them back here as UofL freshmen in the coming years."