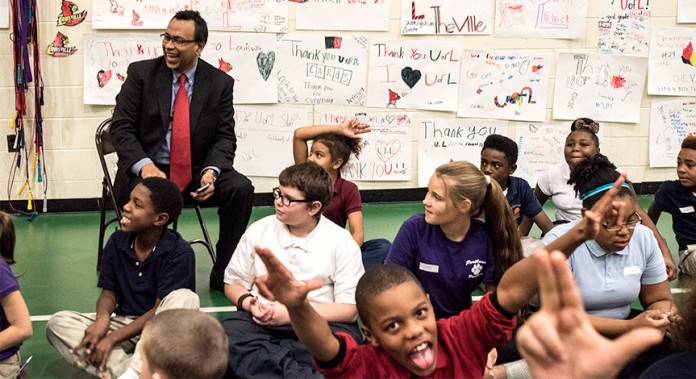 The College of Business kicked off its Elevate Portland Elementary Initiative on Nov. 20 with an energy-filled event complete with music, dancing children, free pizza and, most important, new sweatshirts for over 300 Portland Elementary students.
The sweatshirts, paid for by COB faculty and staff and ordered through the student-run Cardshirt Company, not only keeps the children warm during the cold winter months, but also hopefully motivates them by displaying the anticipated high school graduation date for each child.
According to business professor and event organizer Beth Davis-Sramek, the sweatshirts help plant the seed and reinforce the importance of earning a high school diploma, which is the first step in escaping the poverty surrounding one of Louisville's poorest neighborhoods.
MULTIMEDIA: Watch video. View photos.
"Research shows that the idea of earning a high school degree is implanted at a very young age. As educators, we want to encourage that idea to take root," business professor Beth Davis- Sramek said. "An alarming percentage of the children at Portland Elementary come from households that don't have a high school education.  Those graduation dates on the sweatshirts will serve as a constant reminder that a high school degree is an attainable goal."
The initiative, part of the university's Signature Partner Series, will include multiple educational outreach efforts between UofL and Portland Elementary and, according to Interim Dean Rohan Christie-David, serves as a way to increase the college's role throughout the community.
"We wanted to impress on the children the importance of education in their lives, but also wanted to do it in an informal way so that the kids feel engaged," Christie-David said. "To see the look in the kids' eyes – they're happy and smiling and dancing – it made you feel good. This is a great program with excellent potential and a wonderful way for us to give back."