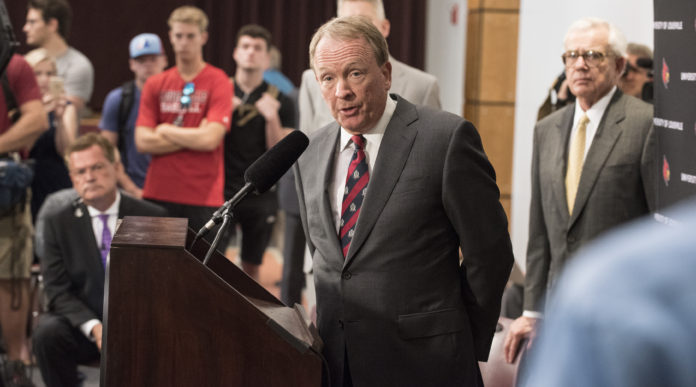 Dr. Greg Postel has been named permanent executive vice president of health affairs at the University of Louisville. The board of trustees approved his appointment last week.
Per his contract, Postel will earn a salary of $950,000 for at least one year. The board also awarded him a $100,000 bonus thanking him for his work as interim president, a role he has served in since January 2017. 
Postel has been at the university for 24 years. The former chairman of UofL's radiology department was named interim vice president for health affairs in 2015 and has continued in that role during his time as interim president.
Postel's new contract begins May 15 and is for one year. After May 15, 2019, he becomes an at-will employee.
During his time as president, Postel led the university through an impressive list of accomplishments, including:
Removal from probation by SACSCOC and completion of 10-year SACSCOC reaffirmation including QEP review
Completion of 2016-2017 academic year ahead of budget and forecast for completion of 2017-2018 academic year ahead of budget
Creation of a balanced budget for 2018-2019 academic year with introduction of revenue targets (risk/reward)
Major restructuring/cultural change in Athletics
Unwind of the joint operating agreement with KentuckyOne Health
Successful on budget near completion of four large construction projects: Belknap Academic Building, Student Activities Center, Pediatric Medical Office Building and Papa John's Cardinal Football Stadium Expansion (All should be completed this summer.)
Success in strategic enrollment management with applications for admission at 15,000 compared to 11,000 at this time last year
Continued progress in community engagement highlighted by groundbreaking of a $100 million project in West Louisville in conjunction with Passport
Also during Postel's tenure as interim president, deans of the Speed School, Brandeis School of Law, College of Business and School of Nursing were appointed. Vice presidents were named for Enterprise Risk Management, Athletics, Community Engagement and Operations. Also, a new CFO was named for the HSC campus, a new director named for the James Graham Brown Cancer Center, and a new head men's basketball coach was named.
In his appointment letter, board members thanked Postel for an "outstanding job."
"You have been a tireless change agent who has worked effectively with the board to put the university on sound financial footing, rebuild trust and relationships within the university and across the state, and position the university for growth," the letter states. "Leading through times of transition is difficult, and you have done it superbly."
Earlier this month, UofL's Faculty Senate unanimously passed a resolution thanking Postel for his interim leadership during challenging times.
As part of his role as EVP for health affairs, Postel will be responsible for ensuring that University Physicians Group Inc. is a regional center of excellence for health sciences education, research and clinical care. He will be tasked with participating in and facilitating strategic planning for the University Medical Center, Passport, UofL Health Care, University Physicians Associates, the James Graham Brown Cancer Center and related entities. This includes determining the allocation of resources from UMC, UPA and UofL Health Care.
Postel will also serve on the board of directors for UMC and as chair of the board and CEO of University Physicians' Group Inc. He will report directly to the president and will advise the president on policies, programs and operations.