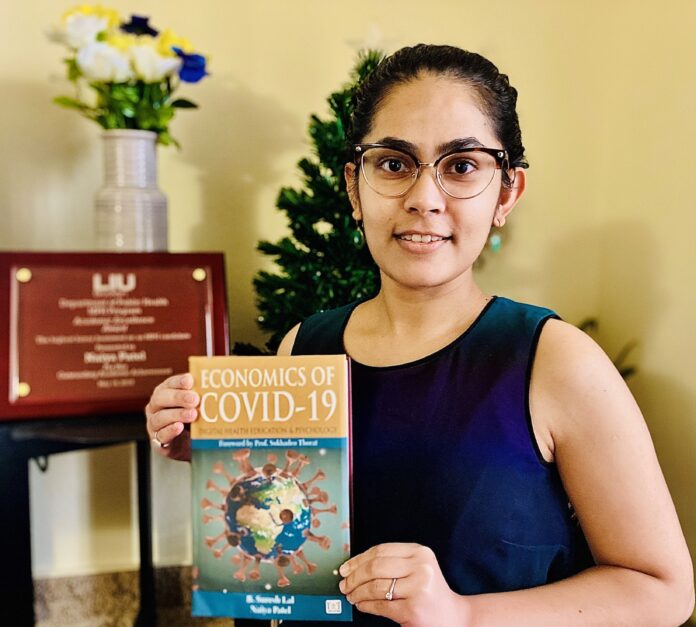 A second-year doctoral student is co-editor of Economics of COVID-19: Digital Health, Education and Psychology. Naiya Patel is focused on health policy in the Department of Health Management and Systems Sciences, School of Public Health & Information Sciences. UofL News reached out to Naiya to discuss the new book.
UofL News: Can you provide a brief synopsis about this new book?
Patel: The book makes an effort to broaden the COVID-19 pandemic's potential impact on different sectors worldwide, particularly in India. It intends to prepare all critical areas like economics, public health, education, digital strategies, psychology and telemedicine, by providing insights through valuable research and opinions of authors worldwide. This way, it will offer a single author's perspective and the richness of research qualities from multiple experts.
UofL News: How did you get involved as co-editor? 
Patel: The lead editor reached out to me with a proposal for the book. I accepted and reviewed all potential papers for conceptual work and originality. I then provided feedback to the shortlisted papers, which qualified the first pass inclusion criteria. We also developed the editor's note, table of contents, book summary and preface. Additionally, we reached out actively to experts in the field with the book's impact report for the potential foreword and sponsorships. I also applied for a couple of book grants and reached out to potential N.G.O.'s involved in COVID-19 work. We finally received a foreword and book sponsorship from India professor, Sukhadeo Thorat, Padma Shri Award winner and renowned economist.
UofL News: How did you become interested in this field of study? 
Patel: During my final year of dental school, I took a public health dentistry course, through which my interest developed. I continued to explore by earning a Master's degree in Public Health (M.P.H.) and publishing my research work in several journals. I was honored to graduate with an Academic Excellence Award. Additionally, I got the opportunity to work in the corporate world through Bristol-Myers Squibb Pharmaceutical company, which introduced me to health management as a feasibility specialist in clinical trial optimization. I've continued my interest by undertaking doctoral coursework at UofL through a merit-based scholarship.
UofL News: Tell us how you landed at the University of Louisville.
Patel: I hold a Bachelor's in Dental Surgery (B.D.S), and was accepted at NYU for an M.P.H Epidemiology major. I completed one semester, continued working as a graduate assistant for the NYU Tobacco SEED lab and completed one publication with the lab. I then wanted to pursue general public health rather than a specific major and NYU wasn't offering it at the time. I accepted a transfer student offer with a merit-based scholarship to Long Island University's M.P.H. program.
At LIU, I graduated with Alpha Eta honors, the Academic Excellence Award and worked as a GRA. I have one publication in a reputable pedagogy journal through that position. Over this period, I explored health management in oncology as a feasibility specialist intern (clinical trial designing) at a top pharmaceutical company. This led me to study health management and systems science as a doctoral degree at UofL. I thank the faculty who interviewed me, Drs. Johnson, Creel and Jennings. Without the golden opportunity of acceptance, it wouldn't have been possible to be part of this wonderful academic environment at UofL.
UofL News: What are your future career goals? 
Patel: I'm yet to decide as I am in the second year of my coursework. However, I would love to continue working in academia or a health policy research-intensive position in the industry like my previous position as a feasibility specialist or a Health Economics and Outcomes Research (HEOR) professional.
UofL News: Anything else you'd like to share? 
Patel: You can now find the book on Amazon! It wouldn't have been possible if the University of Louisville and my department had not been so supportive. In these uncertain times, I cannot give enough thanks to the university for making sure graduate research assistants and students receive the resources we need. The people of UofL are welcoming, wonderful, and I cannot trade being part of UofL for anything in the world.