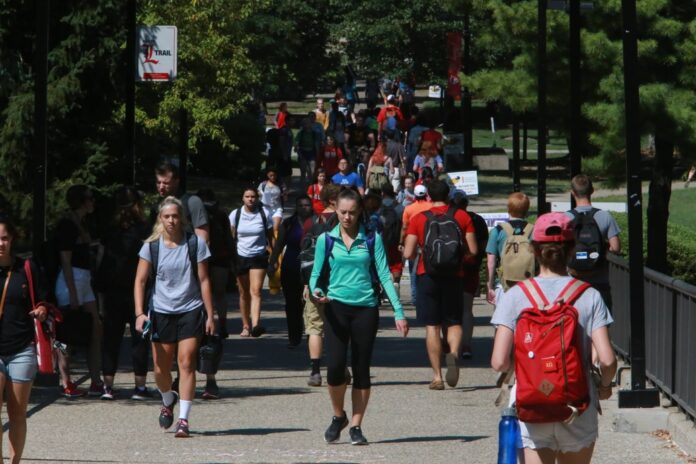 UofL's Staff Senate met virtually on Sept. 14 via Microsoft Teams. Staff senators received information on faculty and staff compensation, student enrollment figures, on-campus flu shot clinics and details of the university's reimagined onboarding experience.
Michael Wade Smith, vice president for external affairs and chief of staff, informed senators of the university's continuing commitment to providing fair compensation for faculty and staff. The 2019-2022 Strategic Plan [PDF] identified the equitable compensation of employees as a critical aspect of institutional success. To honor the university's commitment, Human Resources will lead two university-wide Compensation and Total Rewards Studies over the next several months. The studies will assess employee wages and Total Rewards, which include all available benefits such as health insurance, retirement and tuition remission.
"We are trying to increase compensation in spite of the limited resources that we do have and the turbulent time that we're in," Smith said. "We have our larger university-wide effort that's underway; that's going to take some time. But in addition to that, we are trying to make incremental gains wherever we can."
Smith further acknowledged that the university's compensation initiative contributed to the recent improvements in employee wages. In addition to the 1% salary increase that went into effect earlier this year, UofL staff and faculty also received a $1,000 bonus in August. 
Executive Vice President and University Provost Lori Gonzalez provided senators with her insight on the current student enrollment figures. Both Smith and Gonzalez reported an increase in graduate school enrollment by 232 graduate students, but a decline of 194 undergraduate students. Gonzalez reported that universities nationwide are experiencing a decline in undergraduate enrollment due to COVID-19 and highlighted the impact of the enrollment efforts made by UofL employees.
"I want to point out that we started out at about 750 students down. We are now only 194 students down. This was a Herculean lift from our enrollment management team and the Cardinal family, and now this year we will be focused on retaining those students," Gonzalez said.
Gonzalez also encouraged senators and their constituents to contribute to the Cardinal community of care by vaccinating for the upcoming flu season. UofL will offer flu shot clinics on both the Health Science Campus and the Belknap Campus until Friday, Oct. 1. Dates, locations and hours of operation for the clinic can be found on the Campus Health Services webpage.
"When we talk about a community of care, the one thing that people can do to make sure this a safe campus is to get vaccinated," Gonzalez said. "Now in addition to COVID-19, we are getting ready to move into flu season. Just like we're encouraging you to get your COVID-19 vaccine, please get your flu shot as well."
Brian Buford, executive director of university culture and employee success, presented an overview of UofL's reimagined employee onboarding experience. Launching in January 2022, the improved onboarding process aims to address issues that were identified through numerous focus groups and interviews conducted by the Employee Success Center.
New aspects of the process will include a full year of onboarding support through the Employee Success Center, increased onboarding support at the departmental level, a revamped new employee orientation, as well as a welcome gift during the first week of employment and again on the one-year employment anniversary.
Buford also announced that each department will have a designated liaison known as an onboarding navigator. As the point-of-contact for onboarding employees, navigators will strive to create a spirit of welcome for new hires within their department. Those interested in serving as onboarding navigators for their departments will have the opportunity to volunteer and receive training in the coming months.
Committee reports and a full video recording of the virtual meeting can be found on the Staff Senate Meeting page. The next Staff Senate meeting will be held on Oct. 11 via Microsoft Teams.