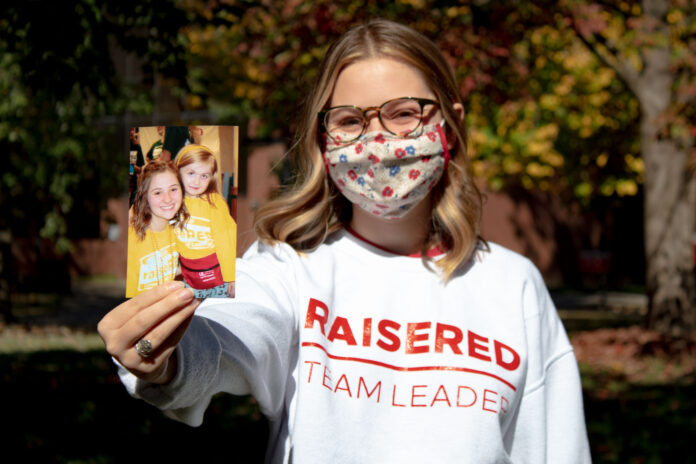 The show will go on.
We're just not quite sure what it will look like at this time.
raiseRED Dance Marathon, UofL's largest student-run philanthropic organization, is held each February. Hundreds of UofL students participate in the exhaustive 18-hour dance marathon to directly benefit UofL's Department of Pediatric Oncology and Hematology. In the past eight years, the event has raised more than $3 million to fight pediatric cancer.
The most recent marathon, held Feb. 25 and 26, 2020, raised a record $690,921.70, eclipsing the previous record set in 2019 of $682,483.71.
Students are passionate about raiseRED, and many spend their entire campus career volunteering for the cause. Now, some even dedicate their time after they've graduated. Just last year, a raiseRED Alumni Council was formally created to connect the event's alums with current participants.
Together, their raiseRED efforts extend well beyond that signature 18-hour dance. In the past, raiseRED has held mini marathons to allow local K-12 students get involved, for example. RaiseRED also hosts blood drives, trivia nights, a talent show and various other fundraisers throughout the year – all efforts to boost that final check unveiled ceremoniously in February.
Because of the COVID-19 pandemic, however, things are likely to look different this year. There might not be the signature 18-hour dance, at least not in its traditional format. Mini marathons are out of the question, while other events – for example, the talent show – are moved to a virtual setting.
That has not deterred the dozens of UofL students who volunteer their time for the cause, however. In fact, registration for this year's raiseRED event, targeted for late February, opens Oct. 19.
Other events in the works (virtual) include:
Trivia night, Oct. 20
Day of giving, Oct. 20-21
Bingo (during Homecoming), Oct. 21
The "25K in a Week" event and raiseRED Talent Show are also in the works for November, though timing specifics remain tentative at this time. Other events, like Dancer Appreciation Day (usually held in January) are also tentative.
What is not uncertain is that our students will find a way to dance somehow, to raise money for this cause – these kids – they are so strongly committed to.
Our students are working through a lot of unknowns right now, all while keeping their focus on that #ForTheKids cause. But there is still an opportunity to get involved and, most importantly, to donate. More information about this year's raiseRED event is available online, with updates to come as they're solidified.