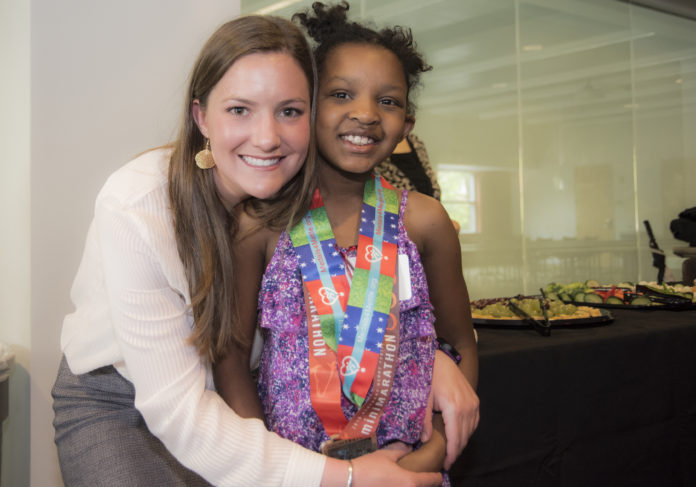 This year, 87 students in the School of Medicine, and for the first time the School of Dentistry and graduate programs, are scheduled to run the Kentucky Derby Festival miniMarathon or Marathon on Saturday, April 29. That afternoon, they will present their medals from the race to a "buddy" from the UofL Pediatrics Division of Hematology/Oncology or other division.
It is the 9th year the UofL School of Medicine has participated in the event, which features an official Medals4Mettle Award Ceremony after the race – 3 p.m. at Kosair Charities Clinical & Translational Research Building lobby, 505 S. Hancock St.
The program was recently featured in Kentucky Monthly, which includes a profile of one of the "buddy" pairs – UofL student Natalie Spiller and Moriah Bonner, a toddler battling sickle cell anemica. Another patient's father chased Spiller along last year's route to express his appreciation for her effort.
The Medals4Mettle program was started by Steven Isenberg, an Indianapolis surgeon, who presented his 2003 Chicago Marathon medal to a friend battling prostate cancer.
Then-student Riley Jones brought the program to UofL's School of Medicine in 2009 with support from former Chief of Pediatric Oncology and Hematology, Salvatore J. Bertolone Jr.
The first year included 11 med school participants. Last year's event featured 87 students, including Spiller.
Read more online.