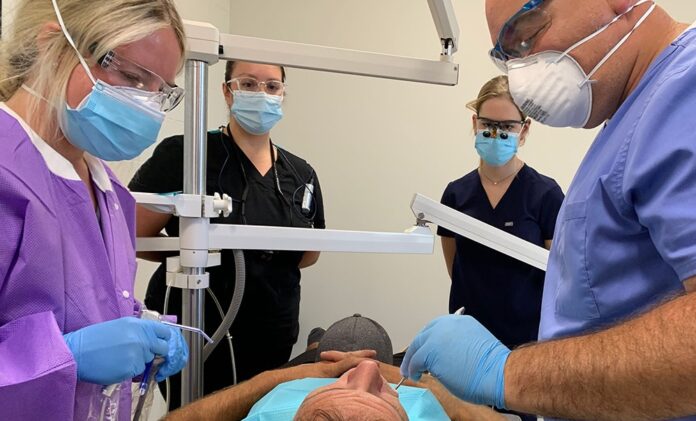 Fourth-year dental students Allison Reed and Virginia Dunlap are the first two of six students who will have the opportunity this year to build their clinical knowledge in Paducah.
The students are working at the UofL Dental Clinic on the campus of West Kentucky Community and Technical College (WKCTC) under the guidance of full-time licensed dentist, Gregory Lord. Dental assisting program students at WKCTC also take part in clinical learning, alongside the dental students.
"I am truly excited about the opportunity to serve the dental needs in Paducah and the surrounding communities, as well as educating the University of Louisville dental students on the campus of WKCTC," said Lord. "The UofL School of Dentistry, along with WKCTC, are here to keep our patients smiling."
Reed, originally from Paducah, and Dunlap, a native of Los Angeles, will rotate into the clinic every four weeks.
Established with a memorandum of understanding between UofL and WKCTC in January 2020, the dental clinic allows students from both institutions to work together while providing services to residents of the Jackson Purchase region. The clinic, located on the second floor of WKCTC's Anderson Technical Building, helps serve the underinsured, underserved populations.
UofL students also travel to other parts of Kentucky for unique clinical experiences, including the Red Bird Mission and Red Bird Clinic located in Beverly, Kentucky. Dental students work under the direction of a local dentist, providing the students an opportunity to treat patients in a rural community and culture. Students rotate through similar externship sites in urban settings, including the Shawnee Dental Clinic located in an underserved area of Louisville.
WKCTC contributed to this story.