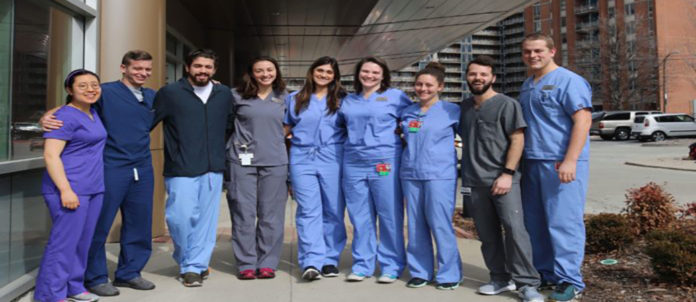 On a Saturday morning, you may find Kelsey Wilson, a third-year dental student, in Carrollton, Kentucky, providing oral health screenings and dental education at a local Hispanic church. Wilson serves as vice president of the UofL School of Dentistry's Hispanic Student Dental Association, and this is one of many outreach efforts of the organization.
"I majored in Spanish in college, so it is a blessing to use my language skills to work with Hispanic patients who are sometimes at a disadvantage," Wilson said. 
HSDA also has provided screenings for backside workers at Churchill Downs and has worked with children involved in boys and girls clubs. Most recently, the organization encouraged other dental students to take part in a fundraiser to assist the University of Puerto Rico School of Dental Medicine in recovering from the drastic effects of the hurricane that hit the island in 2017. UofL joined a number of other dental schools in contributing to a relief fund established through the American Dental Education Association, in partnership with the ADEAGies Foundation.
"It was wonderful to see how other students wanted to get involved, and showed me we have a culture of caring people," Wilson said.
Wilson is one of them. With a heart for the Hispanic population, she spent a year working at a non-profit dental clinic in Memphis, Tennessee, before starting her dental education at UofL.
"I think it is important to reach out to other cultures and look to help those who may be underserved," Wilson said.
One major highlight of HSDA is the annual Baila Conmigo, which means "dance with me." By inviting students from the Health Sciences Center campus to enjoy Hispanic food, dancing and music, Wilson said the fall event is meant to inspire Hispanic culture appreciation – something she hopes future health care providers will take with them as they graduate.
While this article focuses on a group of dental students serving the Hispanic population, the School of Dentistry prides itself in reaching across all populations to meet oral health needs.