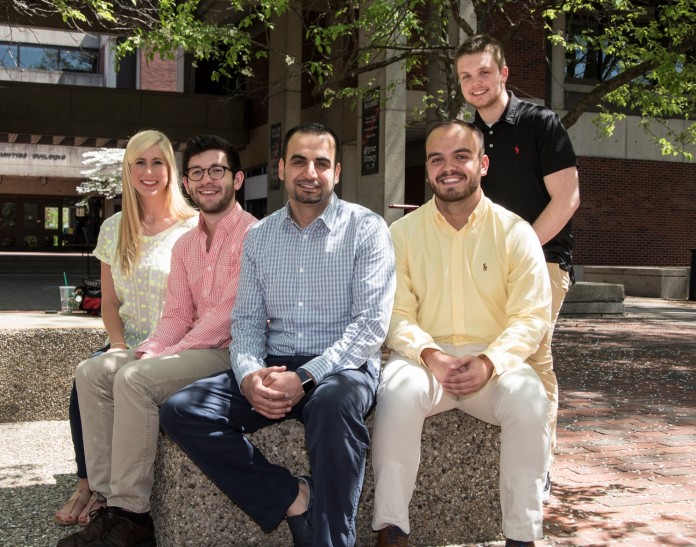 Learning Arabic is not easy for native English speakers. It takes a dedicated, passionate teacher to explain Arabic's absence of vowels, unique pronunciations and a script vastly different from English.
Lucky for UofL, Jordanian native Khaldoun Almousily is exactly that type of teacher.
Although he has been at the university for just two semesters, his Arabic language classes in the College of Arts and Sciences' Classical and Modern Languages Department have become popular and, now, four of his students have won prestigious Critical Language Scholarships (CLS) in Arabic.
The four CLS winners are Jeremy Ball, Christian Brawner, Anna Cecile Pepper and Tanner Wright. All four credit Almousily's instruction—plus his ability to weave a bit of history and culture into his curriculum—with their success in earning the award.
"He incites passion for Arabic and the Middle East in all of his students and is an incredible and patient instructor," Pepper wrote.
Ball called Almousily "one of the most influential professors I have ever had."
Apparently, Almousily's penchant for teaching is a strong family trait. Two of his sisters and one brother, who still live in Jordan, are also Arabic teachers.
"I love teaching more than anything else and I love interacting with students," Almousily said.
The CLS is a fully funded language and cultural immersion program for college students. It is funded by the U.S. Department of State to build a larger pool of Americans who can speak foreign languages considered to be critical to the U.S. Candidates for the CLS in Arabic are required to have at least one year of college-level instruction.
Ball, a Manchester native, and Pepper, an Elizabethtown native, will both spend their CLS at Noor Majan Training Institute in Ibri, Oman.
Brawner, a Glendale native, will travel to Meknes, Morocco, and Wright, who is from Louisville, will study in Tangier, Morocco.
Almousily came to UofL in 2015 as an instructor and program coordinator of Arabic language. He previously was an interpreter/translator on state and federal levels and taught for five years at Western Kentucky University, where he was instrumental in building Kentucky's and Western's first major and minor in Arabic. He hopes to build a similar program for UofL.
He likes to keep students engaged in the classroom by giving them real-world, tangible experiences as they learn. He explains:
"When the unit is about things you need from a grocery store, we turn the classroom into a store were students design a shopping list and go to the market to buy several items they need for the dish they are making. When the unit is about clothing, I bring real clothes and turn the classroom into a market where students are divided into customers and salespeople. They talk about the design, materials and try to negotiate the price."
He also likes to get students out of the classroom. He has organized field trips to an Islamic Center and has shown Arabic-speaking movies. Such approaches resonate well with students.
Wright wrote that he appreciates Almousily for "encouraging me to apply for a CLS and for really pushing me to be more comfortable speaking Arabic as opposed to just learning the material from a book."
The CLS scholars will head to their respective destinations this summer.