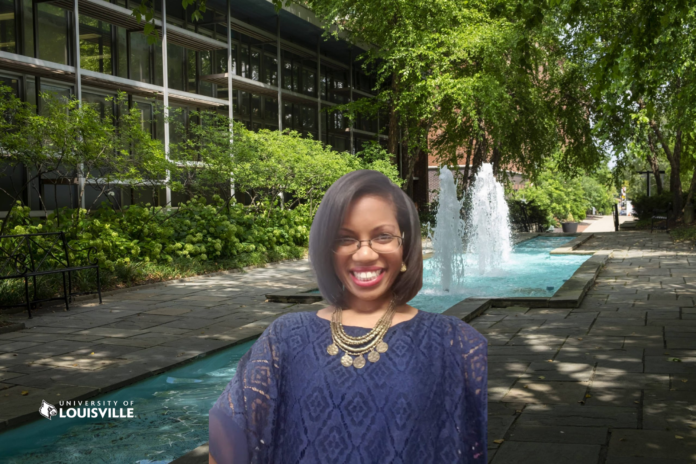 In 2004, Kelly Rowan Burrell was one class away from earning her degree in sociology. She actually walked across the commencement stage in spring of that year; she was registered for her last class that summer.
While at UofL, she had a baby born in 2000 who today is a sophomore at UofL. She met and married her husband, Jeremy. From 2000 to 2004, five close family members died, and the grief was overwhelming. In addition, Burrell was diagnosed with a condition defined as "like multiple sclerosis" that had her moving from class to class in a motorized wheelchair.
But at that 2004 commencement, Burrell was so excited. She steadied herself with a cane while her then-3-year-old son, Lorenzo, toddled along beside her. When her health took a sudden downturn, she had to put off the one class she still had to take to earn her degree.
Slowly, as the years passed and her family grew to four children while she worked full-time at Humana, her last class "turned into many," she said.
Still, she was determined to finish. "I kept going back over the years." she said. "As requirements changed, I kept going. When I owed tuition, I paid what I could until my balance was fulfilled and immediately, I re-enrolled."
After all, when she arrived at UofL in 1999 as "an 18-year-old full of promise," she was the recipient of a prestigious MLK Endowment of Peace award and a Woodford R. Porter Scholarship. She joined Delta Sigma Theta Sorority Inc. in 2002. Her father, Kenny Rowan, had "put Cardinals in my crib," she said. 
In 2019, she arranged with her College of Arts & Sciences advisor to take her final three classes. "I completed all the steps to start classes in January 2020," she said. "During that first class, Covid-19 hit, and we had to move quickly to virtual classes. Including that class, I have taken the last three classes I needed to graduate, one per term, during Covid."
And she did it despite working from home and having four children at home who  each had individual virtual learning needs: A freshman in high school (14-year-old Ajani Nicole), a second-grader (8-year-old Hayden Reese), a pre-schooler (5-year-old Katherine Joy) and Lorenzo, who lived both on campus and at home.
In addition to her parents, Burrell, who grew up in Owensboro, found inspiration in Ricky Jones, chair of the Pan-African Studies department, who was her first Black teacher.
"I took every single class that he taught," she said. "Now my son has started taking his classes and it makes me proud that Dr. Jones sees me in Lorenzo — my legacy."
Burrell's next challenge will be a master's degree (first she has to decide among public health, Pan-African Studies or Women and Gender Studies) and eventually a Ph.D.
"UofL helped prepare me for life," she said. "Over the last 11 months, UofL has helped me show my children that Mommy, now 39, never gave up, no matter what."