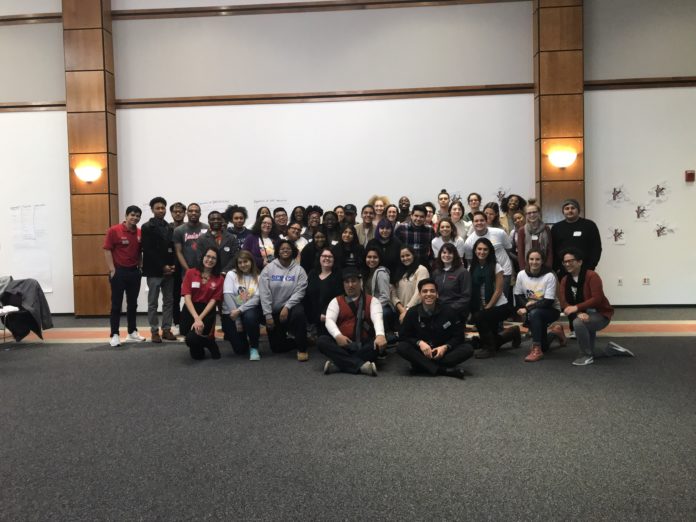 During the day-long training, participants map out their immigration timelines and discuss their various ethnic backgrounds. These activities are intended to help participants connect their lived experiences to vital skills such as adaptability and cross-cultural communication.
At the heart of the UofL Cultural Center's Conocimiento is cultural resilience, meaning skills gained from life experiences often informed by one's own background and traditions. The center will host this cultural resilience training during the spring semester, its fifth time doing so, and its second year partnering with JB Speed School. 
"The goal is for students to raise their consciousness of themselves and their relationship to society," said Sarah Nuñez, associate director of the Cultural Center.
Nuñez and Marcos Morales, former UofL student and current program coordinator at the Cultural Center, adapted Conocimiento for a university setting from E3: Education, Excellence, and Equity, an organization that identifies five 21st century global skills needed by each person: Innovation, critical analysis, cross-cultural communication, teamwork and adaptability.
"We believe we get [those skills] from lived experiences we have every single day and even growing up," Nuñez said. "We all have these unique gifts from the lived experiences."
Both Nuñez and Morales see myriad benefits for those who participate, especially a deeper understanding of and respect for themselves.
"Students get a chance to pause and look at their garden … and see the fruits that are waiting to be picked right there," Morales said. "You being able to function with your friends, and then go and interpret for your mom at the doctor's, that's cross-cultural communication."
Morales, who participated in the training during his senior year, personally attests to the value of Conocimiento.
"It was the very first time I brought my latinidad (various characteristics shared by Latin American individuals) into an educational space," he said. "I think [Conocimiento] impacts students here in that they get to become more proud of their latinidad in higher ed, and that's a big role of our office as a whole."
Nuñez adds that Conocimiento prepares students for their time at UofL, especially as student leaders.
"The stronger you are within yourself, the more that you have the ability to represent, to stand for and with other groups … and to build up whatever the organization's goal or mission is," said Nuñez. "So, from a student leadership perspective, I think a training like this gives them skills to step into leadership roles."
Going forward, Nuñez and Morales would like to expand Conocimiento while still maintaining its personal element.
"There's a lot that happens when people come together and talk; a lot comes forward," said Nuñez. "Even more comes forward when they're given a space to talk, and to deep dive, and to build connections with one another."
Last year's training included 45 participants. Participation levels have increased in each of the four years the training has been held. Nuñez expects that trajectory to continue, as the percentage of Latino students in the area is expected to grow by 53% through 2023.