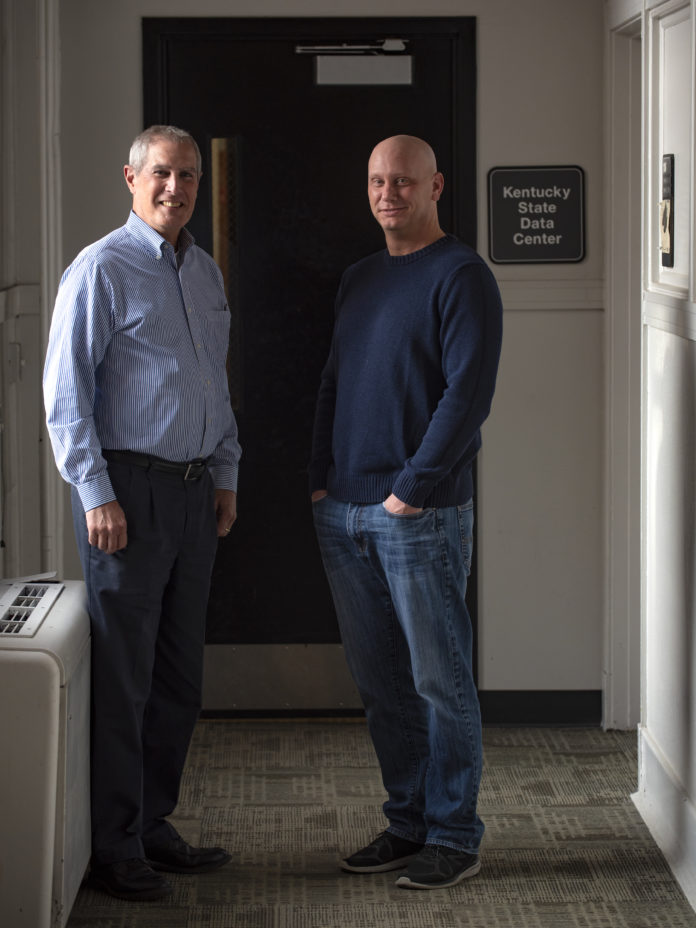 As national, state and local leaders urge people to complete the 2020 census this spring, many Kentuckians outside the public policy sector probably are unaware that the state's clearinghouse for census information is right on the edge of UofL's Belknap Campus.
The Kentucky State Data Center at 426 W. Bloom St. is one of only a few such centers nationally situated at a university, according to demographer Matt Ruther, center director and associate professor of urban and public affairs in the College of Arts and Sciences. He and the center's longtime research manager, Tom Sawyer, are well-attuned to the importance of the once-a-decade snapshot of the nation's population. Their advice: "Answer the census. Please!"
"There's a tremendous amount of funding tied to the decennial census," Ruther said. The U.S. Census Bureau, which conducts the constitutionally mandated count, reports those numbers will influence how hundreds of billions of dollars (an estimated $675 billion) in federal aid will flow into states. The census also affects how many U.S. House of Representatives seats are allotted to each state and how Kentucky's federal and state legislative districts are drawn.
The count's accuracy has a long-lasting effect also in each state. "We produce our own in-house population projections, which are based on the reported census counts," Sawyer said. Several government agencies are required to use those projections, and KSDC works with 31 affiliate government agencies and all the area development districts involved in community planning.
In addition, "All of our annual population estimates for the next decade are going to be based on the results of the census," Ruther said.
"The better the census is, the better the estimates will be in 2023 and 2026 and on," Sawyer said. "It adds to the quality."
This is the first year the census form is available online as well as by phone or mail for residents to complete.
For UofL students who normally reside in university-managed residence halls or Greek housing, the university already has counted them as part of what the census defines as group quarters.
President Neeli Bendapudi sent an email last week urging full participation in the 2020 census. "Let's commit to each being counted to shape our collective future," she said. Check UofL's census information page.
And Gov. Andy Beshear has included in his daily televised coronavirus updates a plea for Kentuckians to complete their forms and all be counted.
KSDC staff members want to allay people's qualms about participating in the count, as there are laws that protect the information's confidentiality and there are no citizenship questions included.
"If anybody has questions or fears, give us a call," Sawyer said. KSDC's number is 502-852-7990. If you have not yet filled out your decennial census online, the website to do so is my2020census.gov.