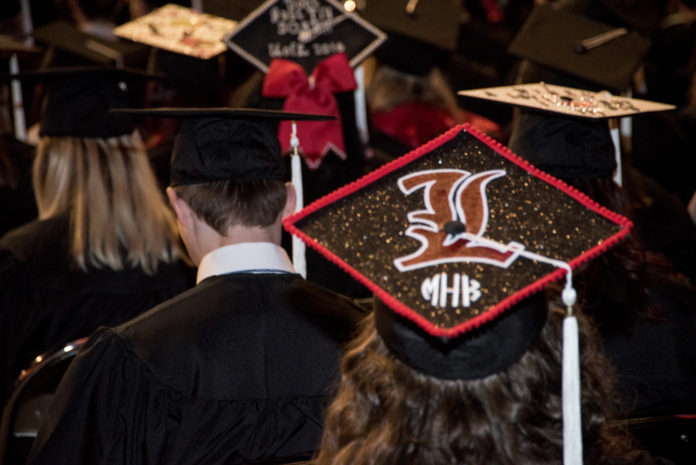 The University of Louisville's spring commencement is Saturday at the downtown KFC Yum! Center.
Of the more than 3,100 students on track to graduate this semester, 2,000 plan to take part in commencement. That's about 70 more than last spring.
To allow time for each graduate to cross the stage and receive a diploma, there will be two ceremonies. The schedule is as follows: 
10 a.m. – College of Arts and Sciences, Kent School of Social Work, School of Dentistry, School of Interdisciplinary and Graduate Studies, Brandeis School of Law, School of Medicine and School of Public Health and Information Sciences
2 p.m. – College of Business, College of Education & Human Development, J. B. Speed School of Engineering, School of Music and School of Nursing
A coffee and dessert reception for graduates and their families will be 12:30-1:30 p.m. in the main concourse.
Student speakers will be College of Arts and Sciences math and physics major Conrad Smart, a native of Versailles, at the 10 a.m. event and J.B. Speed School of Engineering graduate Jalyn Shontee of Louisville at the 2 p.m. event. Shontee graduated last spring with a bachelor's degree in mechanical engineering and completed her master's degree in the same major this year. Both Smart and Shontee are Brown Fellows and have a long list of academic and community accomplishments.
UofL Interim President Greg Postel will preside at both ceremonies.
More information, including a full schedule, is available online.