UofL's May 12 commencement brought an especially large crowd.
Officials estimate there were about 15,000 attendees at the two ceremonies (the first ceremony was at 10 a.m. and the second ceremony at 2 p.m.).
More than 3,100 students completed their degrees during the spring semester and more than 2,000 of those graduates took part in graduation day.
The day was especially poignant for Interim President Greg Postel and University Ritualist Phil Laemmle.
Just before Postel delivered his last commencement address, Board of Trustees Chairman David Grissom thanked him for his significant accomplishments during a difficult time for the university. Grissom said Postel "handled these issues with calmness, integrity and clarity." University officials on the podium stood to applaud for Postel.
Spring commencement was also a "last" for Laemmle, a retired UofL professor who has been university ritualist for more than three decades. "Dr. Phil," as he is known to the campus community, typically sets the tone for commencement when he steps into the arena and gravely tells the audience that he has two important requests. The first is to stay off the main commencement floor. The second is to "have as much damn fun as you can."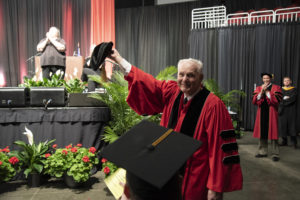 When acting provost Dale Billingsley told the crowd it would be Laemmle's last commencement as ritualist, a group of students called out, "We love you Phil!" Billingsley thanked Laemmle for "his decades of service and outright hilarity." Dean of Students James Michael Mardis will take over the role of ritualist.