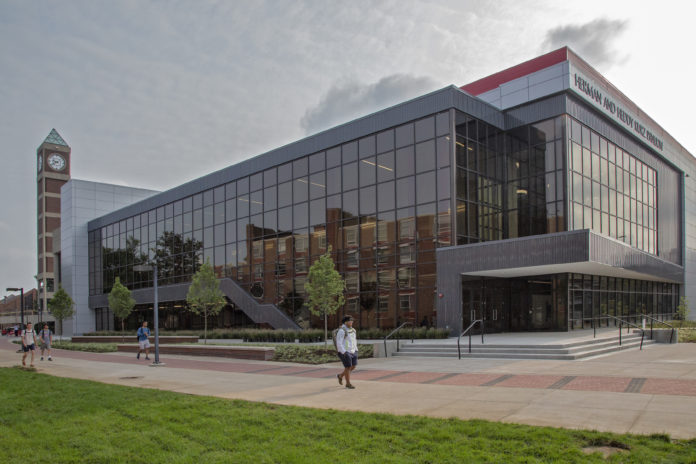 Welcome Cardinals to your newly-renovated Student Activities Center.
Those returning to campus may not even recognize the 1990 building after its transformation this summer.  
The $40 million project consisted of 80,000 square feet of renovated or expanded space, for a total of 412,662 overall square feet, making the SAC the largest building on the Belknap campus, behind Cardinal Stadium.
New amenities include: 
90 percent of the building was redesigned, renovated or expanded
More than 5,000 new meeting seats added
Grand Ballroom with almost 10,000 square feet with a capacity to hold 1,200
Multi-Purpose Room with almost 6,000 square feet with a capacity to hold 500
New Herman and Heddy Kurz Campus Visit Room for prospective students
16 new meeting/conference rooms with integrated audio/screens/projectors technology 
Multiple outdoor plaza areas
Renovated and expanded Campus Store
Expanded/enhanced dining facilities
Canon Print & Mail Service Center
Renovated Floyd Theater
Integrated functional spaces for Dean of Students and VPSA, Student Involvement, SGA/SAB/ELSB, Commuter Student Lounge, Parents Association, International Service Learning Program, Athletics, Women's Volleyball, Campus Store, UofL Dining, Canon Print & Mail Services, PEACC, Health Promotion, Health & Sport Sciences classrooms, lab space and department/faculty offices
Dr. Glenn Gittings, director of Student Activities Center and Special Programs, said people were amazed when they first saw the newly finished multi-purpose room used for President Neeli Bendapudi's meet and greet in May.
"We need campus to see this place and understand what it is," he said. "It's not just about square footage. It's what can be done with it — the programs and services for students that can come here."
Major events that were too large for any space on campus and held elsewhere in Louisville can now happen in the SAC, such as many of the large-scale Welcome Week events that were recently hosted in the Ballroom, Multi-Purpose room and other spaces.
If a unit would like to host a dignitary, or a regional or national education conference, now there's space on campus that comes with Aramark's on-site catering and the latest AV and presentation technologies.
SAC space is free for university units, along with nominal AV costs, and may be booked online. Gittings said these new spaces will ultimately save the university money on travel expenses and rental costs.
And, SAC space can generate funds. Anyone outside of the university can book rooms for a fee, whether it's for a corporate retreat or a wedding. Gittings said Student Affairs is working with the Convention and Visitors Bureau to make people aware.
"While students and campus departments are the primary user, we have space where the community can come," he said.
As for students, they'll also have new space for formal meetings, like Greek weekly leadership meetings, and the informal encounters and experiences that make campus life memorable.
The SAC renovation features improved and expanded open areas, with movable furniture and lots of natural light.  
"Students can come in and socialize and feel a sense of community, no matter who they are. We even have a new lounge for commuter students. We've got a place, an operational component, that allows everyone to have a home," Gittings said. 
Tim Moore, assistant to the vice provost of Student Affairs, said the SAC is like the campus living room and acts as a natural complement to the new Belknap Academic Building.
"We feel strongly students will come out of new academic building, walk that 400 feet, and come straight into the SAC, flow through the corridor and marketplace to the upstairs and lounge area to decompress from their recent studies, talk, collaborate and share ideas," Moore said.
The Student Affairs office, which is housed in the SAC, also has been better arranged so that students can find a one-stop help center for non-academic grievance services and other programs. 
Thanks to a generous donation from Herman and Heddy Kurz, the SAC will also act as the campus front door for prospective students as campus tours will kick off in the new Herman and Heddy Kurz Visitors Room.
"The SAC is part of that continuing story of campus improvement," Moore said. "All of this is about enhancing the quality of the student experience."