UofL's business and engineering communities together celebrated entrepreneurship earlier this month when UofL's College of Business added two names to its prestigious Entrepreneurship Circle of Fame.
Van Clouse, a 30-year UofL professor who co-founded the entrepreneurship MBA program, and Henry "Hank" Conn, a UofL alumnus who pledged over $20 million to create the J.B. Speed School of Engineering's Conn Center for Renewable Energy Research, were this year's honorees at the Nov. 16 ceremony. 
Their names were inscribed on a plaque located just outside the college in Jane Goldstein Plaza.
Clouse, who will retire at the end of the academic year, is the Cobb Family Professor of Entrepreneurship and director of the Forcht Center for Entrepreneurship. He has taught hundreds of students and coaches entrepreneurship MBA teams in regional, national and international business plan competitions.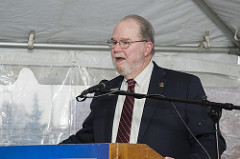 "It saddens me that the time has come for me to retire," said Clouse, who came to UofL in 1986. "I will continue to follow the program, but I feel like our current program is in really good hands. … I've told my colleagues if you ever have a question, give me a phone call and you may find me if I'm not out on a trail hiking somewhere." 
Conn earned his undergraduate degree from the Speed School in 1966, an MBA from COB in 1969 and a Master of Engineering from Speed in 1972. Since 1983, he has been involved in more than 25 startups.
He said his MBA "was priceless for me all the way through," and said he was honored to be recognized in the Circle of Fame.
Clouse and Conn bring to 16 the number of honorees in the Circle of Fame, begun in 2012.
Past honorees are W. Stewart Cobb, '56 (2012); Thomas R. Davidson, '62 (2012); Terry E. Forcht, '59 (2012); David A. Jones, '54 (2012); James A. Patterson, '55 (2012); Daniel C. Ulmer, '55 (2012); Kenneth C. Gardner, '72 (2013); Kent Oyler, '80 '82 (2014); Thomas A. Wimsett, '86 (2014); Randall J. Bufford, '81 (2015); Sean O'Leary, '95 (2015); Diane Medley, '80 (2016); W. Earl Reed III, '73 (2016); and William J. Ready, '01 (2017).