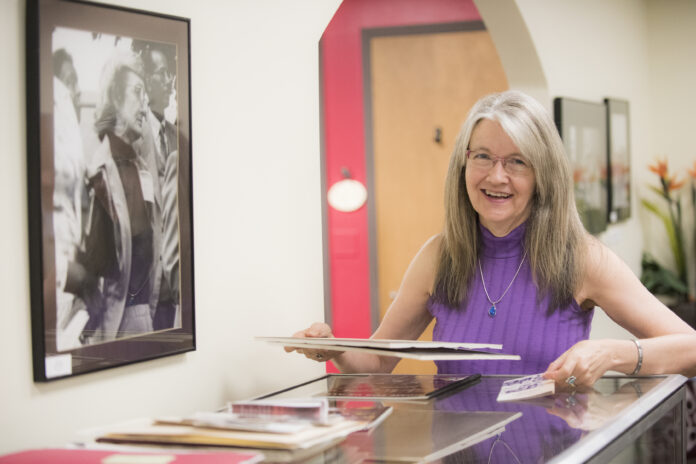 Catherine Fosl, professor of women's, gender and sexuality studies and founding director of the Anne Braden Institute for Social Justice Research (ABI) in the University of Louisville College of Arts & Sciences, is the recipient of the 2020 Trustees Award.
The award, in its 31st year, is UofL's most prestigious faculty award, recognizing faculty members who have made significant contributions to student life. The UofL Board of Trustees made the announcement Dec. 10.
"I'm so honored and I'm so humbled by this incredible award," Fosl said. 
Fosl founded the ABI in 2006, two years after arriving at UofL, and since then has helped UofL earn classification as a Carnegie Foundation community engagement institution. 
"The ABI mission is to 'bridge the gap between academic research and community activism for racial and social justice'," Fosl said in her 2020 Teaching and Learning Statement. "… ABI students, staff, and I have conducted teach-ins and civil rights history tours with multiple UofL classes across several colleges and programs, as well as in dozens of (Jefferson County Public School) and other K-12 classrooms, various local civic and governmental groups, and in or with multiple universities regionally."
Through the ABI, Fosl has created funded opportunities for UofL students to gain meaningful new research and community engagement experience, focusing on issues ranging from homelessness to increasing the visibility of Kentucky LGBTQ history.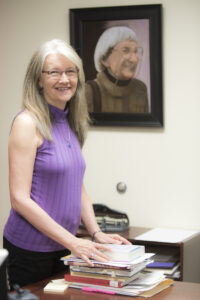 Fosl is the author of several books including Braden's biography "Subversive Southerner: Anne Braden and the Struggle for Racial Justice in the Cold War South" and "Freedom on the Border: An Oral History of the Civil Rights Movement in Kentucky" with her colleague Tracy E. K'Meyer, UofL history professor.
"Perhaps one of her most interesting, and literally far-reaching, collaborations was with her 2013 and 2016 study abroad courses in South Africa," K'Meyer said in her letter supporting Fosl's nomination for the award. "In these classes, Fosl taught the history of white women's anti-racist activism in the U.S. South and in South Africa."
The late Anne Braden was a Louisvillian known as one of the most prominent white anti-racists in U.S. history. She is one of only six white southerners whom the Rev. Martin Luther King Jr. named as reliable allies in his 1963 "Letter from a Birmingham Jail." 
In 2019, Fosl won a W.K. Kellogg Foundation Community Engagement Scholarship Award for the "Anne Braden Institute-Kentucky LGBTQ Heritage" project, conducted from 2015-2017. That project, in association with the Fairness Campaign, held statewide "History Harvests" to collect and preserve Kentucky's LGBTQ history, and the ABI report was published by the National Park Service as part of its effort to document minority communities.
ABI also established an annual, free Anne Braden Memorial Lecture to focus on the U.S. civil rights movement. From the 2007 inaugural talk by Julian Bond, longtime NAACP president and rights leader, to activist Angela Davis, the series has brought to UofL nationally known speakers and authors on topics ranging from mass incarceration and Black Lives Matter to racial divides and justice in present-day America.
Fosl will receive $5,000 and a plaque recognizing her achievement. She will also be recognized at the 2020 Virtual Commencement at louisville.edu/commencement.