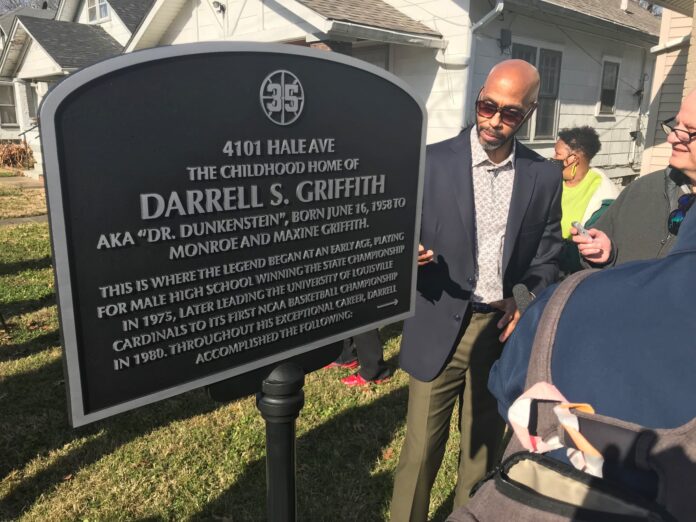 Hale Avenue, from Cecil Avenue to South 40th Street in the Chickasaw neighborhood, has been renamed "Darrell Griffith Way, AKA Dr. Dunkenstein Way" after the Louisville Basketball legend. A sign has also been placed in front of his childhood home at 4101 Hale Ave.
Louisville Metro Council honored Griffith with a naming ceremony on Thursday, Dec. 2. During the event, he said, "This neighborhood was such a great neighborhood. Reason why I say that is because we did so many things together in this neighborhood." 
Griffith started playing basketball with his friends at Chickasaw Park nearby. He went on to play at Louisville Male High School and was heavily recruited by colleges across the country. He ended up at the University of Louisville, leading the Cardinals to four consecutive NCAA appearances and a 1980 championship. He was named the Most Outstanding Player of the Final Four during that 1980 season. 
After college, Griffith played for the Utah Jazz. However, he maintained his Louisville roots, giving back through his nonprofit organization, the Darrell Griffith Foundation, and as a founding board member of the West End School, which is also home of the Darrell Griffith Athletic Center. 
Thursday's ceremony was attended by Griffith's UofL coach, Denny Crum, former teammate Roger Burkman, President Neeli Bendapudi and others.