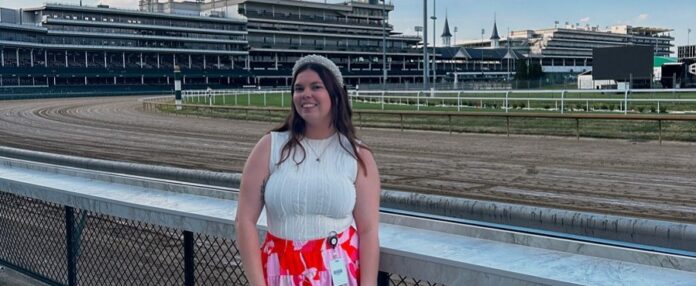 The Call to Post is a familiar sound that brings excitement throughout Louisville this time of year, including for UofL College of Business students Abby Sheffield and Samantha Versocki who are taking part in internships through Churchill Downs, Inc.
Sheffield, a junior studying equine business administration, is a seasonal event coordinator at Churchill Downs, where she plans and orchestrates corporate and personal events. This is no easy task given all the moving parts and details to manage. She also is a Keeneland College Ambassador for the Keeneland Association, where she is learning the behind-the-scenes operations of the horse industry. To build on her experience, Sheffield plans to work with the National Thoroughbred Association this upcoming summer in Washington, D.C. Her passion for horses and connections in the industry is leading her to follow a career path in the field.
Versocki is from the small town of Saratoga, New York. The UofL sophomore plans to double major in equine business administration and marketing.
"The Equine Industry Program at UofL is the best in the country," said Versocki, whose love for horses started at a young age.
Fueled by her passion for the horse industry and with the help of the UofL's equine program, Versocki landed the Churchill Downs internship as a luxury concierge. She assists with numerous social occasions, many of which deal with high profile celebrities including horse owner Tom Pletcher who has three horses racing in this year's Kentucky Derby.
Both College of Business students credit UofL's Equine Industry Program for giving them opportunities to succeed in the field they love. In addition to their work at Churchill Downs, they've received opportunities to participate in other internships, as well. They also acknowledge the mentorship of K. Amy Lawyer, director of the Equine Industry Program.
"She's one of my favorite people – I can turn to her for anything," Sheffield said.
Sheffield says she plans to pick Tapit Trice to win the 2023 Kentucky Derby, and Versocki is betting on Forte. Win or lose, their Churchill Downs experience has proved to be a sure bet.