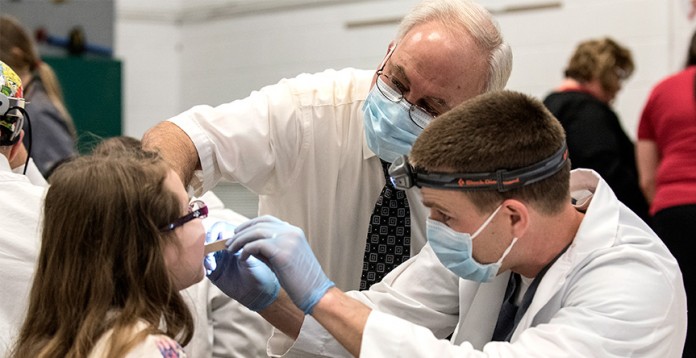 More than 2,000 children at six Jefferson County Public Schools on Feb. 5 learned about the importance of proper dental hygiene, and many received a free dental screening through the efforts of the University of Louisville School Dentistry, Smile Kentucky! and Aetna Better Health of Kentucky.
The initiative is part of the American Dental Association's Give Kids a Smile Day, hosted during National Children's Dental Health month, and seeks to tackle what the U.S. Surgeon General has called the number one common, chronic childhood disease – tooth decay.
"Our school is dedicated to improving the lives of Kentucky's children, and that is why we close our clinics for the day to go into community schools to screen and teach kids about dental health," said John Sauk, DDS, MS, dean of the UofL School of Dentistry.
"Good dental care is vital to our students' overall wellbeing and confidence, key elements in them coming to school happy, healthy and ready to learn," said Jefferson County Public Schools Superintendent Donna Hargens. "We're excited to partner with the University of Louisville School of Dentistry and other community collaborators on this important health initiative."
About 250 UofL dental and dental hygiene students, faculty and staff, along with community volunteers visited Greenwood, Rutherford, Camp Taylor, Alex Kennedy, Maupin, and Roosevelt-Perry Elementary schools. Dental students and faculty screened children for signs of dental decay and cavities, and notified parents or legal guardians about the findings. These oral health evaluations also meet the Kentucky dental screening requirement for school entry. Dental hygiene students explained how to properly brush and floss, and talked with children about how too much sugar can lead to cavities.
Children left school with a goody bag complete with a toothbrush, floss and dental health educational materials.
About Smile Kentucky!
Established in 2002, Smile Kentucky! is considered a national model for community partnerships. Over 158,000 children have participated in education programs, 43,000 have received a dental screening and 3,600 have received free dental treatment valued at $1.3 million. Local companies and organizations cover the costs. The program complements a national effort by the American Dental Association.