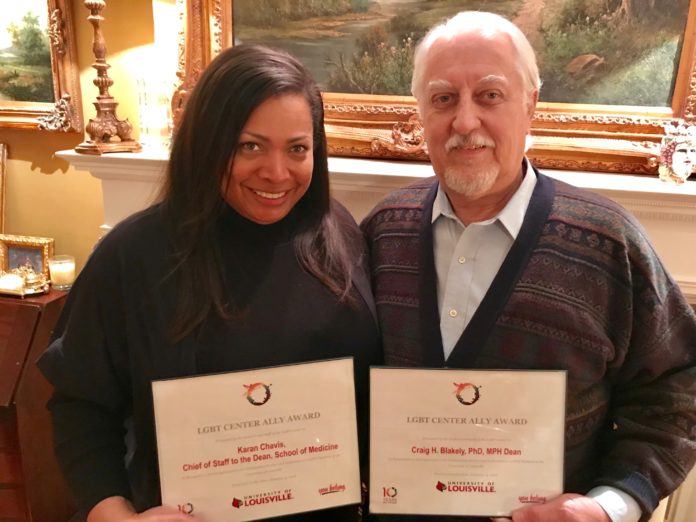 Craig Blakely, PhD, MPH, dean of the School of Public Health and Information Sciences, and Karan Chavis, chief of staff for the dean of the School of Medicine, have been presented the LGBT Center 2017-18 Ally Award for the Health Sciences Center Campus.
Blakely and Chavis were nominated individually by students, staff and faculty on the HSC campus, and were chosen as a couple because of their extraordinary individual and joint efforts to support the mission and sustainability of the LGBT Center. Brian Buford, assistant provost for diversity and executive director of the UofL LGBT Center, presented the awards during the Winter Cabaret, a fundraiser for LGBT Center on Jan. 14.
"Cultivating a climate where allies step forward to support LGBT inclusion has been a big part of our work over the years, and Karan and Craig are amazing examples," Buford said. "They've used every opportunity to speak up and stand alongside LGBT people, and they do it with incredible grace and thoughtfulness."
To support LGBTQ students, the couple hosted a "welcome back to school" party at their home for LGBTQ students, staff, faculty and allies.
Previously, Chavis and Blakely nominated the UofL LGBT Center as the beneficiary of the community fundraiser "Dining at the Mansions" for 2017 and 2018. The 2017 event raised $18,000 to support programming for students at the center.
Blakely energetically participated in the LGBT Center's 2016 Ally Campaign on HSC Campus by not only adding his name to the Ally list, but wearing a rainbow flag lapel pin and encouraging others in SPHIS to participate. He also has supported the center by speaking at the HSC Pride Week picnic and co-sponsoring a blood drive with students from HSC Pride, among other activities.
Chavis has helped connect key stakeholders in efforts to develop an LGBT Clinic. She also helped establish an institutional membership to the Gay and Lesbian Medical Association, a national organization dedicated to equality in LGBT health care. The membership facilitates attendance at the organization's conference by UofL faculty members.
The 2017 LGBT Ally Award for Belknap Campus was presented to Julie Weber, director of campus housing, on Nov. 2 at the Belknap Campus Pride keynote address.