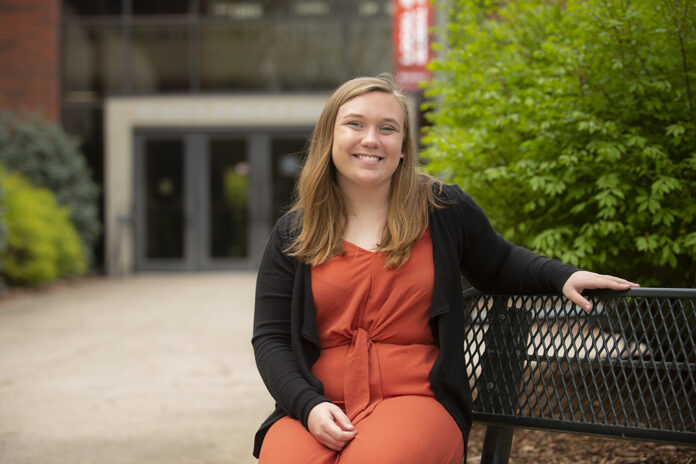 Piper Marie Midle, a member of the Cardinal Marching Band receiving her bachelor of science in secondary education in mathematics, is the scheduled afternoon speaker for the May 14 Spring Commencement exercises.
After graduating, Midle will return to her alma mater, South Oldham High School in Crestwood, Kentucky, to teach mathematics.
"I hope to stay there and help the students grow and give back to a community that gave me everything," she said. 
The university is conferring a total of more than 3,300 degrees and certificates and more than 1,900 students are expected to attend the traditional two commencement ceremonies at the KFC Yum! Center. Interim UofL President Lori Gonzalez will lead both ceremonies, which mark the return of spring commencement exercises to the downtown arena since they were canceled in 2020 due to the Covid-19 pandemic. Last spring, exercises were held outdoors in historic ceremonies at Cardinal Stadium.
Midle said she plans to give her fellow UofL graduates a message of "new beginnings." 
"I hope to provide my fellow graduates with a sense of hope and accomplishment as we enter this new chapter in our lives," she said.
In their nomination letter, College of Education & Human Development associate professors Sue Peters and Shelley Thomas praised Midle for overcoming the challenges of becoming a teacher during a pandemic that upended school schedules and locations and left few true classroom experiences to learn from.
"Piper, however, learned how to adapt to the challenge, going above and beyond to refine her teaching skills. This is representative of the commitment to academic excellence and student engagement that she shows on a consistent basis," they said.
Midle said UofL was a perfect fit for her as someone who grew up right outside of Louisville in Pewee Valley. A lifelong Cardinal fan with an older brother who graduated from UofL last year, she wanted to support the teams she had always loved as part of the Marching Band and the Pep Band. She played both flute and saxophone in the Cardinal Marching Band beginning in her freshman year.
"Some of my favorite experiences have been through band and the College of Education & Human Development," Midle said. 
She loved traveling to away games to other cities with the band, she said, and she was disappointed they missed out on so many travel opportunities in 2020 and 2021 due to the pandemic. But some of her most treasured band memories were a result of that difficult time. 
"While I did miss out on these opportunities, I was given different opportunities to work closer with my CEHD peers as well as provide nursing homes and hospitals with free performances to try to raise spirits and show our support of those on the frontlines during this time," she said.
The May 14 ceremonies at the KFC Yum! Center will be as follows:
10 a.m.: College of Arts & Sciences, Brandeis School of Law, Kent School of Social Work & Family Science, Graduate School, School of Dentistry, School of Medicine, School of Nursing and School of Public Health & Information Sciences.
3 p.m.: College of Business, J.B. Speed School of Engineering, College of Education & Human Development, School of Music.
For more, visit louisville.edu/commencement.