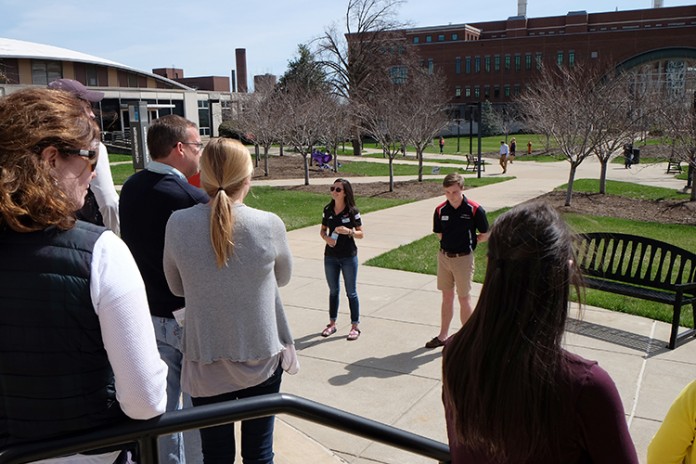 UofL's Cardinal Ambassadors spotlight Belknap campus every day, giving tours to prospective students, family members and visitors. They answer questions, highlight key buildings and pass along everything from historical facts to tips for finding the best campus food.
The Cardinal Ambassador program started more than 20 years ago with just a handful of students. It has grown to include almost 40 Cardinal Ambassadors this year.
After successfully navigating a rigorous interview process, the Ambassadors are put to the test with tough training sessions during the summer to prepare for hundreds of tours they will give during the academic year.
This summer they walked about 15 miles around campus over the course of three days during training. The Ambassadors have to know their stuff: Each tour takes about 90 minutes.
Nearly 900 tours were conducted in 2014, the highest number so far. Even more tours are expected this year.
"I love the opportunity that's been given to me to meet the students," said Tammy Lawson, visitor information manager in the office of communications and marketing, which oversees the Cardinal Ambassador program. "The students have been great, I'm very proud of them for what they do every day."
The Ambassadors play key roles in the function of the university's communications and marketing department.
While they are primarily known for being UofL's main campus tour guides, they also help run both the North and West information centers on campus and serve as public relations representatives for the university. They are often the first faces a visitor sees on campus.
"I became a Cardinal Ambassador because I wanted to be more involved on campus," said Cody Hamm, a senior accounting major. "It was a great opportunity to share my knowledge with incoming freshmen."
The Ambassadors, both students and staff, are a very tight-knit group.
"I have so many stories about former Cardinal Ambassadors," said Lawson, adding that some of these talented students have gone on to work at UofL and other universities, or have become doctors, lawyers, dentists, nurses, entrepreneurs and educators. "I've attended graduations, weddings, a swearing-in ceremony. I can't think of a single student that does not have a success story."
Hugo Schurr, a sophomore accounting major, is a recent addition to the Ambassador family.
"I had friends that were Cardinal Ambassadors and they really liked it," said Schurr. "I love being able to help people and this is a great opportunity to branch out."
For more information about the Cardinal Ambassadors visit:http://louisville.edu/infocenters/cardinal-ambassadors