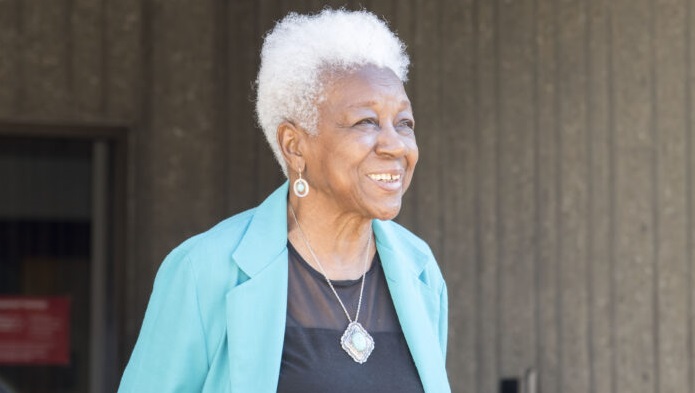 More than a decade before she became the first Black female student in the University of Louisville School of Medicine, Delores Gordon Alleyne set her sights on becoming a doctor.
"I decided after completing a 6th grade career project in which students research their desired life occupation," Alleyne said. "I don't know how I came up with the idea. My cousin's half-brother was a doctor, but I didn't know him at that time. Following up on the career project, I did a report on Howard University, Dr. Charles Drew and other pioneering African American physicians."
Born in Pulaski, Tennessee in 1932, Alleyne and her family moved to Louisville in 1941. She graduated from Central High School in 1949 and enrolled in the Louisville Municipal College for Negroes. She transferred to UofL in 1951 where she completed her bachelor's degree with a biology major.
In 1953, Alleyne became the first African American female admitted to the School of Medicine.
"Transferring as a junior, I knew I could do college work. I am deeply religious and always had faith that with God's help, I would succeed," she said. "As part of the civil rights movement, my fellow students and I were inspired, knowing that we were making history and changing the nation."
Although the university had been integrated, much of the city remained segregated. Alleyne took the challenges in stride and focused on achieving her goals.
"Since I had lived all my life under racial segregation, I had learned to endure it with equanimity and did not feel denigrated or put down by incidents that may have discouraged others," Alleyne said. "I came to UofL to further my career goal and did not let anything distract me from that goal. It helps to be calm, brave and focused."
Alleyne became the first African American female to graduate from the UofL School of Medicine in 1957. Encouraged by a friend who was in medical school at Loma Linda University, she moved to California where she completed her internship at Los Angeles County General Hospital.
She returned to Louisville for a pediatrics residency before finishing her residency at District of Columbia General Hospital in Washington, D.C., and taught there as a clinical instructor in pediatrics for Howard University. After getting married, Alleyne and her husband made a number of moves around the country.
Alleyne continued her education, earning master's degrees in business administration and public health, and eventually returned to California. There, she served as a pediatrician and chief pediatrician at the Watts Health Center in Los Angeles and as a pediatric consultant with the Charles Drew Clinical Review Team for the Office of Economic Opportunity's new Neighborhood Health Centers. She was a clinician and administrator with Los Angeles County Department of Health Services for 22 years. She retired from practice in 1999.
Alleyne encourages young people to pursue their goals with determination.
"Set yourself a goal and work toward it," Alleyne said. "Don't let other folks define your abilities and objectives."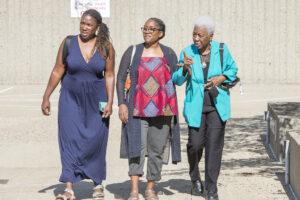 Recently, Alleyne's daughter, Valerie Alleyne Udeozor, a professor of nursing at Santa Monica College in California, produced a documentary about her mother's life journey, "How I Got Over." In the film, Alleyne recounts her time at UofL and her experiences with segregation. Alleyne and Udeozor hope the film will inspire young African Americans to enter careers in medicine.
"Becoming a doctor is really a great career! However, it requires exceptional amounts of determination, money, energy and study. It is not for the faint of heart," Alleyne said. "There are numerous other medical careers that don't require so much of your life. You can learn a lot about medical careers while working in hospitals, clinics and other institutions."
Alleyne advises those who choose to pursue a career as a physician to stay focused and remember that their work is a mission.
"Realize that it's not just a job; it's a service and a calling. Always do your best for your patients. Always be willing to listen and learn," Alleyne said.
"Good grades are key. Make an 'A' in every subject that you can. Don't smoke. Don't drink. Exercise and maintain a healthy weight and a positive attitude! Stay strong! Keep the faith!"