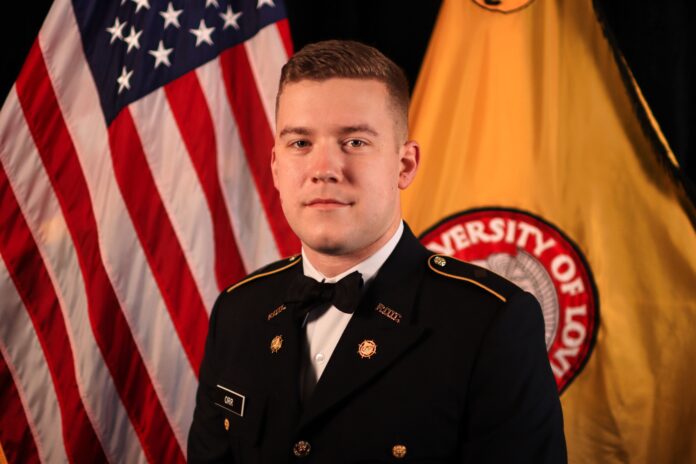 UofL ROTC Cadet Kevin Orr's most treasured possession is the original compass and protractor that his grandfather, a U.S. Navy pilot, was issued more than seven decades ago. His late grandfather kept them in their original velvet pouch, and they are still in mint condition.
"We're still taught to use a compass and paper maps," said Orr, who learned his grandfather's skill during summer ROTC training camps.
Orr and 17 fellow Cardinal Battalion cadets will be commissioned May 7 as second lieutenants in the United States Army. The in-person commissioning (the last two have been virtual due to the pandemic) is scheduled for 10 a.m. in the Student Activities Center Ballroom.
He will also graduate that evening at Cardinal Stadium during a 7 p.m. ceremony with a master's degree in political science. With that, the 25-year-old Louisville native will have achieved his goals of better positioning himself for a rewarding career and serving his country through the Army National Guard. 
"For me, ROTC provided the chance to spend two years to come out with an advanced degree from a flagship university like UofL and as a commissioned officer in the Army," Orr said. "It presented an opportunity that no other academic and leadership program could provide."
After Orr was laid off from an office job at the start of the pandemic in 2020, he relied heavily on his ROTC community for support.
"I think the experience of going through the pandemic with the Cardinal Battalion this past year showed me how strong and how powerful those relationships are to get you through those harder times," he said.
Orr continued his classes as he juggled four part-time jobs: bartender, deli worker, middle school lacrosse coach and dog walker. Between morning ROTC workouts, work and class, he was often gone 15 or 16 hours a day, only to have to do it all again the next day. "Staying motivated was certainly the key for me," he said.
A graduate of Louisville Collegiate High School, Orr went to Allegheny College in far western Pennsylvania and earned a bachelor's degree in international studies. He attempted to join the Navy  his senior year, but was disappointed when he was medically disqualified. He then returned to Louisville where he worked as an analyst for an international law firm before joining ROTC in 2019 to help him "serve my community and do meaningful work."
Following commissioning and commencement, Orr will remain at UofL until October as a recruiter for the Cardinal Battalion. Then he will head to Fort Lee, Virginia, for his four-month Basic Officer Leader Course. When that is completed, he plans to work in the public sector while serving in logistics and maintenance for the Kentucky Army National Guard.