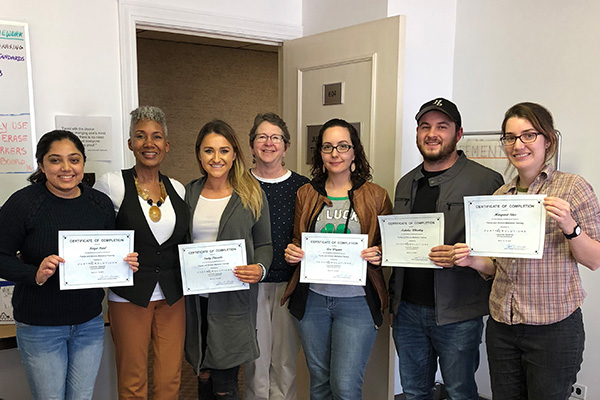 Although law school classes weren't in session during spring break, that doesn't mean that Brandeis Law students weren't learning. 
In fact, five students — Kriya Patel, Emily Pinerola, Margaret Sites, Ami Wagner and Nick Wheatley — spent the week in mediation training. After more observation hours this spring and summer, the students will participate in the Brandeis School of Law's Mediation Clinic in the fall of 2018.
"I am interested in the mediation clinic because I believe that there is great empowerment in letting the individuals make the decisions regarding the problems they are facing," Pinerola said. "Through mediation, they get to bypass the litigation process, which means they can make the decisions instead of the judge. This is empowering and necessary to me. Mediation is a way to guide people and show them they are capable of making their own decisions."
The students were trained by attorneys and Just Solutions mediators Mary Jo Gleason, Janet Jernigan and Denise Payne Wade.
The Mediation Clinic, which opened in the fall of 2017, is open to 2Ls and 3Ls who have completed 40 hours of rigorous mediation training. Students come to the clinic as certified mediators ready to work with low-income pro se litigants who have been referred by Jefferson County Family Court judges. They mediate cases involving divorce, paternity, child custody and post-decree divorce problems. It is the only free mediation service in Louisville.
The training was made possible thanks to funding from the Edwin H. Perry endowment.