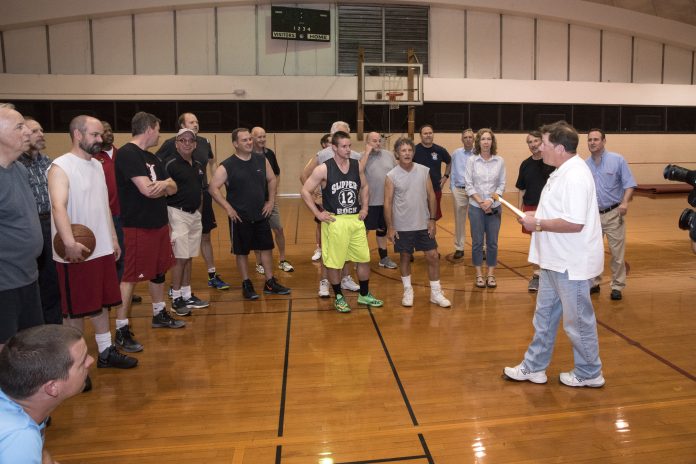 The Noontime Basketball Association gathered recently to pay homage to the 52 years they've played together and the beloved building that made their countless games possible.
As is typical of the motley group of UofL faculty and staff, it was more in the spirit of fun than formality.
After all, since its inception in 1964, the NBA, as the group laughingly calls itself, has never been an actual league. They've never collected dues, elected leaders or had any of the trappings of a formal organization.
They've just had an open door policy — any university employee who wants to play basketball can show up at lunchtime on Mondays, Wednesdays and Fridays in Crawford Gym.
"One of the great things about these games is there is no distinctions, as long as you get a UofL pay check, you're welcome. We've had everyone from janitors to vice presidents," said Steve Skaggs, professor of graphic design, who acts as the group's impromptu leader. "You get everyone in their underwear and everyone looks alike. Status falls away."
Over the years, players have come and gone, some have gotten a little grayer, softer and more prone to injury.
But one thing remained the same, they always played in Crawford Gym, which was also the varsity basketball team's practice facility for decades. The facility was hot — it never had air-conditioning — but the court was good and long and the floors had great bounce, they say.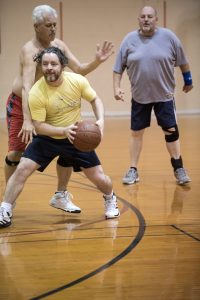 The tradition will end this summer when the gym is torn down to make way for a new academic building.
The NBA held a decommissioning ceremony to mark the occasion, in which they reminisced and read a proclamation.
 "We hereby celebrate the fellowship, the layup, the blocked shots, the fights, the injuries and the laughter this facility made possible," Skaggs said.
The group also will hand over their only documents to University Libraries Archives and Special Collections, which includes a roster of about 120 players (that's everyone they can remember) — and the "Monroe Doctrine," as their rules are called, so named for biology professor Burt Monroe who penned them years ago.
"It's a tattered sheet of paper we always kept in a locker just in case there was a dispute, but there never was," Skaggs said.
He can remember only one change to it: In the 1980s, 3-point and 2-point shots were added. Before that, there had only been 1-point baskets.
Players describe their games as competitive and physical, even as skill and talent vary. For example, physical plant worker Adam Walter Davis, or "Ice," as the group calls him, played on his junior college's basketball team, and can really shoot.
But, he was quick to share the ball "to get everyone involved," even if that was to team members who weren't as quick to the basket as he was, "like my man right here," he said with a laugh, clapping Guruprasad Giridharan on the back.
Giridharan, associate chair of bioengineering, didn't know how to play basketball when he started with the NBA in 2003. He'd newly moved to Louisville and came out to get some exercise. While his shot hasn't improved a lot, he's made lots of friends; the kind you can have a bourbon with after work, he said.
The NBA has brought together people who otherwise wouldn't have had the chance to meet, and even resulted in occasional collaborations, said Skaggs, who once worked with bioengineering professor and fellow player Steven Koenig to write a grant.
"Basketball has a way of bringing people together," Skaggs said.
Like any community, they've experienced losses through the years, as regulars have gotten sick or passed away. Former Western Kentucky player Granville Bunton, who worked in UofL's libraries, died in 1996 after having a heart attack following a game at Crawford. A plaque honoring Granville signed by "his noontime basketball friends" is on display in the gym lobby.
"Part of it is a brotherhood," Koenig said.
Occasionally, women have also played. Skaggs remembers guarding Patty Jo Hedges Ward, who played at the University of Kentucky from 1979-83. She was named to the 1982 SEC All-Tournament team after helping the Cats win their first SEC Tournament championship. She also was a member of the Pan American Gold Medal team in 1983.
"She was crafty with the ball to say the least," Skaggs said.
And, there have been serendipitous moments, too. 
Scott Davenport, Bellarmine University's basketball coach whose team clinched the 2011 NCAA Division II national championship, was once a freshman at UofL, just hanging out in Crawford Gym, watching the NBA play.  
Someone left and they needed another player. They asked Davenport to join. He did, and he played well. He was so good that former athletic director Bill Olsen, who was present at the time, noticed and invited him to try out for the junior varsity team. Davenport did, and his storied career in basketball was born.
The NBA plans to play through the summer. Following Crawford's removal, they'll move to another gym on campus.
Click here to view more photos. Watch a story about the NBA below.