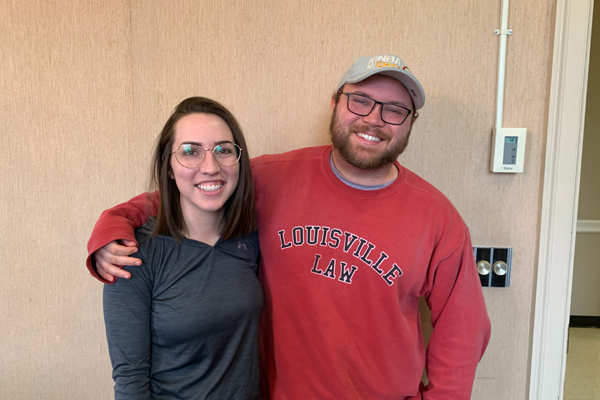 One student at the University of Louisville School of Law credits her experience as a bone marrow donor with bringing her to law school.
When 3L Suzy Marino was an undergraduate student at San Diego State University, she signed up with Be the Match's donor registry. She ended up donating bone marrow to the son of Beth McMasters (Louisville Law Class of 1994), a Louisville lawyer.
One year after the transplant — Marino's senior year of college — she received a letter from her recipient. They began corresponding, and Marino planned to come to Louisville for a visit in February 2016. Just before she was set to arrive, her recipient, Owen McMasters, died at the age of 16.
Marino made the trip to Louisville anyway — attorneys at McMasters' firm, McMasters Keith Butler Inc., picked her up from the airport. She attended Owen's visitation and ended up coming back to Louisville for a week at the end of her senior year. During that trip, she spent time with McMasters and her fellow attorneys, all of whom were women.
"I met all these women who were vibrant and outgoing and who were attorneys," said Marino. She had never considered law school — or moving to Kentucky — before she met the McMasters family. But she ended up moving in with them while studying for the LSAT. Louisville Law was the only law school she applied to.
Marino's passion for bone marrow donation has not ended now that she's in law school. In fact, it has helped her connect with a fellow law student.
Brian Fields, a first-year student at Louisville Law, recently completed his first bone marrow donation. He was alerted that he was a preliminary match in late 2019 and underwent the procedure in early 2020. The procedure required him to travel, and the physical recovery has been draining. But Fields credits the understanding and support of his professors with minimizing disruptions to his studies.
"My professors were wonderful and really accommodating," he said, adding that they recorded class sessions and offered extensions on assignments while he was recovering.
Fields and Marino connected after she posted about being a bone marrow donor on social media. Both have made a point to spread the word about the importance of signing up for the bone marrow donor registry. Both agree they would donate again.
"It's a pretty small sacrifice on your end to save a life," said Fields.