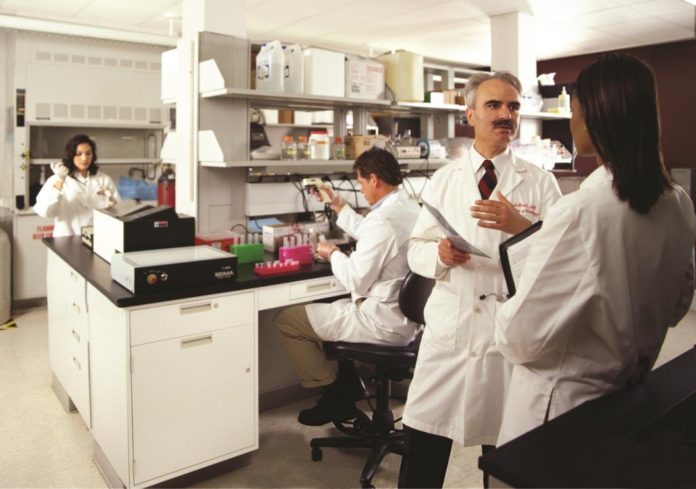 The first researcher to successfully demonstrate the safety and potential efficacy of a type of adult cardiac stem cells in patients with heart failure will now oversee an expansion of his work at seven new sites in five states.
Roberto Bolli, MD, director of the University of Louisville Institute of Molecular Cardiology, announced today that a new research trial funded by NIH National Heart, Lung and Blood Institute, the CONCERT-HF Study, is now open to enroll patients. The study is a Phase II, randomized, placebo-controlled trial of the safety, feasibility and efficacy of two types of adult stem cells used alone and in combination in patients with heart failure.
In addition to UofL, the study centers are Stanford University, the University of Miami, Indiana University, the Texas Heart Institute, the University of Florida and the Minneapolis Heart Institute Foundation. The School of Public Health at the University of Texas Health Science Center at Houston will serve as the data coordinating center.
In the study, two types of stem cells will be studied. Both are known as "autologous" stem cells because they come from the same patient in whom they are returned. The two types of adult stem cells used are autologous mesenchymal stem cells (MSCs) and c-kit+ cardiac stem cells (CSCs). MSCs will be manufactured from the patients' own bone marrow while CSCs will be manufactured from the patients' own heart tissue.
Bolli, who also serves as scientific director of the Cardiovascular Innovation Institute at UofL, is a pioneer in research using adult stem cells for cardiac disease. In the landmark 2011 SCIPIO trial, he and his research team were the first to successfully show the safety and potential efficacy of autologous c-kit+ stem cells taken via cardiac biopsy from patients who had suffered a previous heart attack.
SCIPIO enrolled 20 stem cell-treated patients with heart failure at UofL; four of the 20 patients discontinued the trial. Although definitive conclusions cannot be made because of the small number of patients, the results suggest a remarkable efficacy of autologous cardiac stem cells. After one year, the 16 patients in the study showed a 40 percent increase in the amount of blood their hearts were pumping. Moreover, MRIs in some patients showed significantly less dead heart tissue after the trial therapy, suggesting that the adult stem cell therapy was regenerative in nature.
Bolli practices with UofL Physicians. His success with the SCIPIO trial and his overall body of work, comprising more than 30 years of cardiac research, led to his successful grant application to establish a Cardiovascular Cell Therapy Research Network (CCTRN) center at UofL. This consortium of leading cardiovascular research organizations is sponsored by the National Heart, Lung, and Blood Institute and conducts early clinical trials of adult stem cell therapies in patients with cardiovascular disease.
"I continue to believe that adult stem cells could be the greatest advancement in cardiovascular medicine in my lifetime," Bolli said. "CONCERT-HF is very important because it will help determine whether c-kit cardiac stem cells are effective and whether combining two stem cell types is more effective than giving one cell type alone."