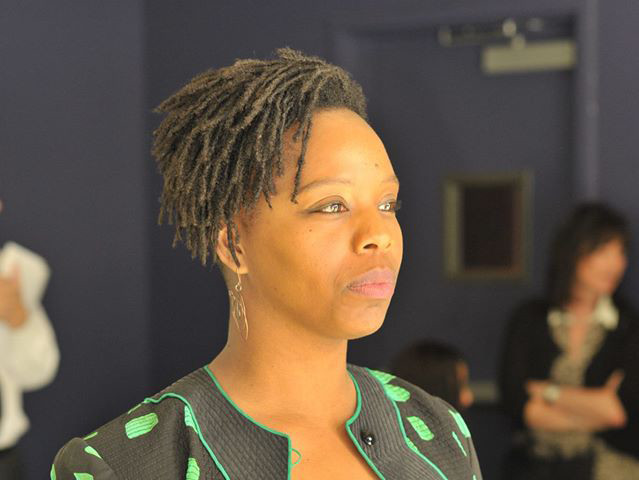 Patrisse Cullors, social activist, artist and co-creator of #BlackLivesMatter, will deliver the keynote address during this year's Pride Week celebration.
Patrice Cullors
The talk, sponsored by the Student Activities Board and hosted by The LGBT Center, is Oct. 1 at 7 p.m. in the Student Activities Center Multipurpose Room. UofL students, faculty and staff may enter with a valid UofL ID. Community members may reserve a limited number of tickets at http://uofl.me/2015-Pride
#BlackLivesMatter is a viral online movement that started in 2013 to fight racism and create a dialogue around the issue. It was co-founded by Cullors, a queer-identifying social justice activist. In addition to co-creating the #BlackLivesMatter movement, she is also the founder of Dignity and Power Now, an organization committed to protecting imprisoned people and their families in Los Angeles.
In 2007, Cullors was awarded the Mario Savio Activist of the Year and Sidney Goldfarb Award. This year, the Los Angeles Times named her a New Civil Rights Leader for the 21st Century. She is also a Fulbright Scholar and holds a bachelor's degree in religion and philosophy from UCLA.
In addition to Cullors talk, The LGBT Center is hosting a number of events Sept. 28 to Oct. 2 as part of Pride Week.
Highlights of Pride Week include:
Monday, Sept. 28, 7 p.m.: "Mosquita y Mari," a film about two girls growing up and discovering themselves. The event will take place in Ekstrom Library, Room W104. This film is also part of the Reel Latin America Film Festival. For more on the film and the rest of the festival, visit the website.
Tuesday, Sept. 29, 7 p.m.: Trans SpeakOut, presented by SAB and The LGBT Center. This panel discussion will have an open question-and-answer section, and current events and issues will be discussed. Trans SpeakOut will take place in the SAC's Floyd Theater.
Wednesday, Sept. 30, 7 p.m.: White People Supporting Each Other to be Part of the Change, presented by Showing Up for Racial Justice. This workshop, facilitated by Carla Wallace and Carol Kramer, aims to build relationships and explore different ways to work for social justice. For more information about SURJ, visit their Facebook page.
For the full list of Pride Week events, visit http://louisville.edu/lgbt/programs-1/pride-week-1 .
For more information, contact Brian Buford, director of the LGBT Center, 852-0696.