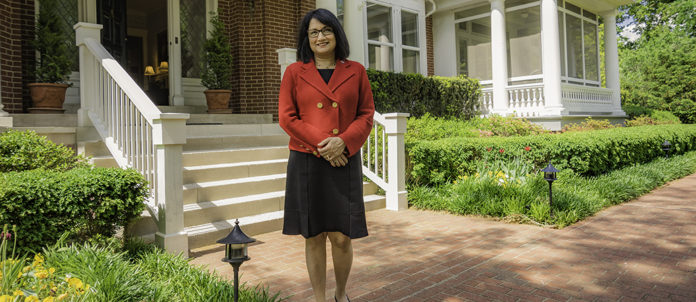 By now, the confetti should be cleared and our collective workflow rhythms should be back in full cadence.
To keep our New Year-induced optimism strong, the Courier Journal has identified 20 of the "most influential people" in Kentucky to watch this year, a list featuring many familiar faces from UofL.
That includes President Neeli Bendapudi.
The publication notes that Bendapudi "hasn't shied away from making high-profile, high-stakes decisions, including the admittedly risky move in 2019 – with the support of UofL's trustees – to acquire the financially struggling Jewish Hospital as well as other local KentuckyOne Health facilities."
The publication also highlights Bendapudi's efforts toward eliminating barriers to student success.
"In 2020, you can expect us to not rest on our laurels but to continue driving forward toward our goal of being an even greater place to learn, to work and in which to invest. In the new year, we will increase our focus on experiential learning, student mental health and providing greater access to student financial aid," the president told the publication.
Also recognized is Daniel Cameron, who made history last year when he became Kentucky's first black attorney general. Cameron graduated from UofL with a bachelor of science degree in 2008 and then from the Brandeis School of Law in 2011. Cameron played on the UofL football team during his time as an undergraduate.
He is expected to be offered a prime-time speaking slot at the August 2020 Republican National Convention in Charlotte, North Carolina, and has already been considered as a potential U.S. Senate candidate in 2026.
Kevin Cogan, chairman and CEO of the Jefferson Development Group, is also one to watch as his company is leading the development of the One Park project. According to the publication, Cogan, a UofL graduate, has pushed for years for approval of the $200 million-plus mixed-use development to "transform the 3.5-acre triangle near Cherokee Park."
In 2016, nearly 3.6 billion people around the world tuned into the Rio de Janiero Summer Olympics. There's no reason to believe that number will be much different this summer during the 2020 Tokyo Games and one of the story lines those viewers could witness is that of 2019 UofL graduate Mallory Comerford.
Comerford is a member of the USA Swimming National Team and a four-time NCAA gold medalist. As the publication notes, "all of Comerford's accomplishments have been building toward the 2020 Olympics Games in Tokyo." Her first step? Getting through the Olympic Trials in Omaha, June 21-28.
Dr. Melissa Currie, chief of the UofL Division of Forensic Pediatrics, oversees the state's most severe cases of suspected child abuse. The Courier Journal acknowledges her unique position in 2020 as Kentucky has the highest rate of child abuse and neglect in the country.
The story notes, "Currie, as a founding member of the Kosair Charities Face It campaign to eliminate child abuse in the region, will continue to work with the group to expand efforts to educate the public about the warning signs of abuse. She is also a key member of the independent panel that will continue to look for ways to reduce child abuse deaths and injuries."   
The Family Scholar House is a statewide entity that provides stable housing and child care while single parents earn college degrees. Five Family Scholar House campuses have housed over 500 people who have earned their degrees while in the program. The original FSH opened in 2008 in partnership with UofL's College of Education and Human Development.
The Courier Journal expects 2020 to be a big year for FSH, with the potential of over 100 scholars graduating in a single year for the first time. Accordingly, the publication recognized CEO and president Cathe Dykstra as a person to watch.
This year, Matt Gibson officially assumed the role of CEO and president of the Kentucky Derby Festival. The organization manages more than 70 community events starting in April with Thunder Over Louisville. Gibson, a UofL graduate, is the first new CEO for the organization in more than 20 years.
Treva Hodges, mayor of Charlestown, Indiana, is the first female mayor of any city or town in Clark County. The 40 year old also completed her PhD in Comparative Humanities at UofL in July 2019. Among her goals for the town of 8,000 residents: to make it more financially transparent.
Senate Majority Leader Mitch McConnell graduated with honors from the University of Louisville in 1964 with a major in political science and served as president of the student body. He founded the McConnell Center in 1991 based on his belief that "Kentucky's future depends on inspiring talented, motivated leaders." The center pursues its mission through the McConnell Scholars program, public lecture series, civic education program, military education program and the Senator Mitch McConnell and Secretary Elaine L. Chao Archives.
The Courier Journal notes that 2020 is important for McConnell because it will be up to him and the Senate to facilitate a trial to decide whether or not recently impeached President Donald Trump stays in office. McConnell, who is the longest-serving U.S. senator in Kentucky's history, is also up for re-election in the fall.