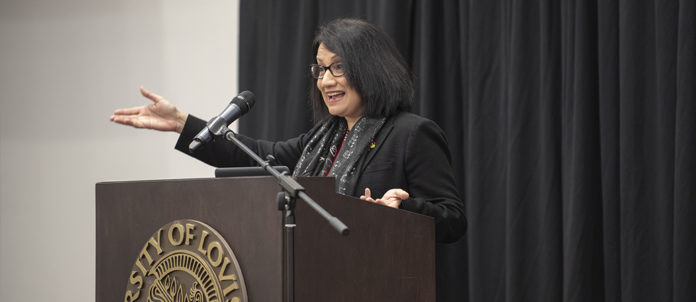 UofL's Staff Senate met Monday in the Thornton's Academic Center of Excellence at Cardinal Football Stadium with two major discussion items on the agenda – President Neeli Bendapudi's 12% raise approved last week by the Board of Trustees (which she donated back to UofL) and the Humana Gym's closure, also announced last week.
Chair John Smith opened the meeting by explaining why he voted in favor of Bendapudi's raise.
"I've been vocal about not giving raises to administrators because of the affect it has on our morale, having not gotten raises in quite some time. Two things made Neeli's situation different for me," he said.
First, when she was first hired a year ago, the Board intentionally made a low offer under the conditions that her pay would be adjusted to a higher level – proposed last week – if she was able to restore ethical behavior and integrity to the university.
"I thought it would be hypocritical for us not to do what we said we were going to do," Smith said. "Second, she told us before the board meeting that if she received the raise she was going to donate it. Those two things made this situation different for me.
"I also thought it would send a strong message to state legislators, donors, potential new corporate partners and from a gender equity standpoint if we brought up her salary, which was in the bottom 5% when we hired her."
Bendapudi then took the floor to answer a number of questions from senators, most of whom were concerned about the Humana Gym closing without warning. The president said she wants the university to get to a point where employees can expect consistent and predictable raises. In doing so, administrators began an exercise a few months ago that examined every line in the budget.
"As we looked at every line of our spending, we found that this gym cost about $1.05 million to operate annually and is used by about 335 members. That equates to about $250 per month per member," she said.  "I can see how much this decision would hurt those who were a part of that. It wasn't an easy decision, but it was a very expensive thing to maintain for 335 members."
Bendapudi said the decision was not made without a trade off – GHN members can join Planet Fitness for the same cost ($15 a month) with no other changes to their GHN program – wellness coaching and the $40 discount continue.
"In order for us to get to an annual 2% raise, we have to make tough decisions," she said. "Please believe me when I say we are trying to do the right thing." 
Bendapudi predicts that 2% raise will happen in January 2020 and then hopes it can be annual by the summer of 2021.
Senators expressed discontentment about the gym decision not including shared governance input. Bendapudi ensured them that research was done but said she will work to use the Staff Senate as a resource and a partner for future decisions.
"That's on me," she said. "If you look at the gym benefits from Planet Fitness, it's important to communicate that they are increasing, not decreasing. I have to look at anything that is only benefiting a small percentage of our employees."
A senator asked why the fees are higher at the Student Recreation Center versus the Planet Fitness membership and Bendapudi noted that general student fees pay for the SRC.
"That is mandatory for students and we have a directive to not be cheaper for anyone else," she said.
Bendapudi was asked if she has plans on what to do with the money donated from her raise. Her initial thoughts are to focus on mental health resources for students, but nothing has yet been solidified.
Finally, Bendapudi said she will consider communicating decisions to senators before any mass communication goes out to the entire campus in order to receive their feedback and solutions.
Todd Kneale, UofL's director of total rewards, also provided the Staff Senate with updates to the shared leave policy. A discussion ensued about some of those updates – for example the definition of "catastrophic" and whether or not donations should be pooled or direct. After receiving input, Kneale said he will send another update to the senators at a later date.
He added that the compensation policy is also being updated for consistency and simplicity. He hopes to have that in place by July 1.
Nominations were submitted for chair (3 candidates), vice chair (3 candidates) and secretary/treasurer (2 candidates). Each candidate had 3 minutes to speak to the senate about why they wanted the position and why they were the best suited for such a role. Elections will be held during the June meeting.
Finally, Smith's chair's report notes that the Chick-fil-A opening on the HSC campus has been delayed and is now expected to be early August. Additional committee reports from the meeting are available online. 
The next Staff Senate meeting is June 10 at 2:30 p.m. on the HSC campus.