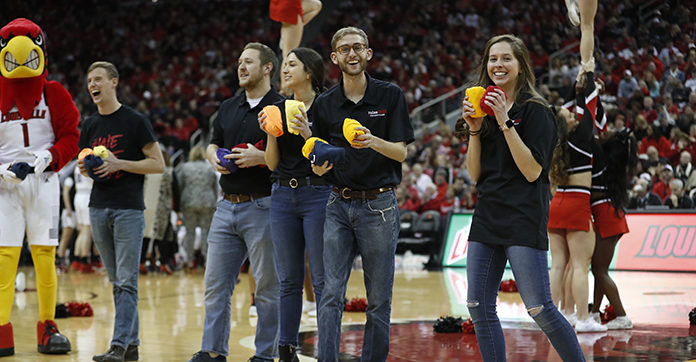 When it comes to cancer, everyone is willing to join the fight.
It's what makes University of Louisville's athletics department's partnership with raiseRED – the largest, on-campus student-led philanthropic campaign that fights to end pediatric cancer – an all-around victory.
The deal centers around a plan called Flight 23, which provides students admission to every home regular season home game for all 23 sports, including football and men's and women's basketball, for $10 per month.
Athletics is donating $2 to raiseRED for every Flight 23 member that attends a home football game (up to $10,000 total) and $1 to raiseRED for every member that attends a home men's basketball game (up to $20,000 total).
Flight 23 memberships can be purchased online through each student's My Student Cardinals Account.
In previous years, athletics has donated a portion of funds for every student season ticket purchase referred by raiseRED, which focuses year-round efforts on supporting research and funding of the UofL Department of Pediatric Oncology and Hematology.
Last school year, raiseRED fundraised a record $682,483, a figure that could be surpassed with the new partnership.
Though the partnership dates back to at least 2016, last year's successful single-game initiatives between athletics and raiseRED signaled opportunities for continued growth.
On Jan. 31, Louisville's women's basketball welcomed 11-time national champion Connecticut to the KFC Yum! Center for raiseRED Student Night. Head coach Jeff Walz and provost Beth Boehm agreed to donate $10 each to raiseRED for every student in attendance. By the end of the night, the Cardinals knocked off the Huskies and raiseRED was on the receiving end of a $10,000 check. Earlier that year, men's soccer and athletics marketing teamed up to donate $1,000 to raiseRED in appreciation of the organization helping drive student attendance to the match.
Athletics will continue its student night initiatives with raiseRED during the fall and winter seasons leading up to the Dance Marathon, which is held annually in February. 
"We are very thankful for our partnership with athletics," said Cole Hetzler, raiseRED's university outreach coordinator. "It speaks to the community that we have here at UofL, and how we all support each other."