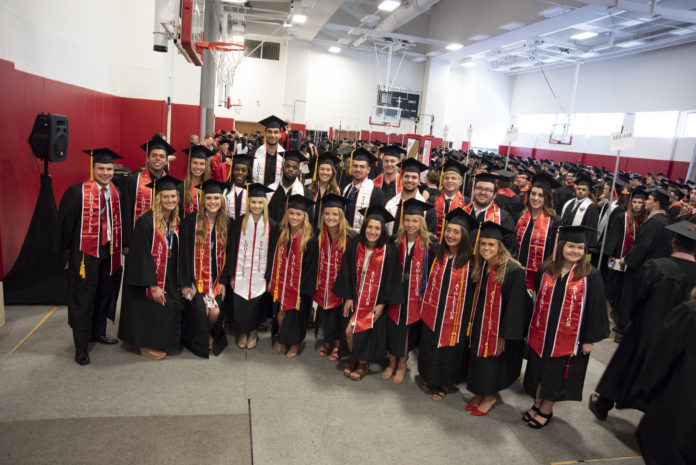 The success of University of Louisville's athletics department largely has been associated with its ability to generate championships and player of the year honors.
For years, though, the Cardinals have produced consistent success away from the playing surface.
In mid-November, the NCAA released its national graduation rates, and UofL student-athletes combined for a school-record 88 percent graduation rate that was reflected in the Graduation Success Rate report.
The Cardinals' graduation rate, most recently reported for freshmen who entered in the 2011-12 academic year, has risen 22 percent in a 14-year span, when the GSR was first developed to account for transfers into the university that graduate and those who leave in good academic standing. Six teams achieved perfect marks in the most recent report.
"Our student-athletes have continued to improve upon their academic standing at record accomplishments," said UofL Vice-President and Director of Athletics Vince Tyra. "It starts with our coaches recruiting the top student-athletes, continues with the commitment from the student-athletes to achieve in their academic pursuits, and also having a dedicated support staff in place to aid their efforts."
Six former student-athletes participated in last year's winter commencement after returning to UofL to complete their coursework to graduate, including Bilal Powell, who plays for the New York Jets in the National Football League. Each is a product of the Cardinal Degree Completion program, established to assist returning student-athletes that exhausted their athletic scholarship eligibility, with the costs of full or part-time tuition and books associated with completing their degree.
Thirty-two student-athletes are expected to participate in next week's winter commencement.
The athletics department's impressive academic success isn't confined strictly to student-athletes graduating.
Nine teams earned national recognition during the course of the year in 2017-18 for their academic achievements.
Individually, several student-athletes also earned highly coveted national honors for their feats in the classroom in 2017-18.
Men's soccer's Tim Kubel was named to the 2017 United Soccer Coaches NCAA Division I Scholar All-America first team. Softball's Jenna Jordan, who graduated magna cum laude last year, and Celene Funke earned 2018 Google Cloud Academic All-America Division I Softball honors, as selected by the College Sports Information Directors of America. Track and field's Kassidy Manning and Joe Delgado were named to the 2017-18 Google Cloud Academic All-America Division I Cross Country/Track and Field teams.
As fall semester grades are compiled, Louisville's athletics teams are seeking to extend a notable streak.
The Cardinals' capped the spring of 2018 with a collective 3.233 grade-point average, marking 15 consecutive semesters with at least a 3.0 GPA. In that academic year, 364 student-athletes were named to the ACC Academic Honor Roll, with 470 student-athletes, managers, trainers, spirit group and pep band members earning Red and Black Scholar status for securing a minimum 3.25 cumulative GPA.