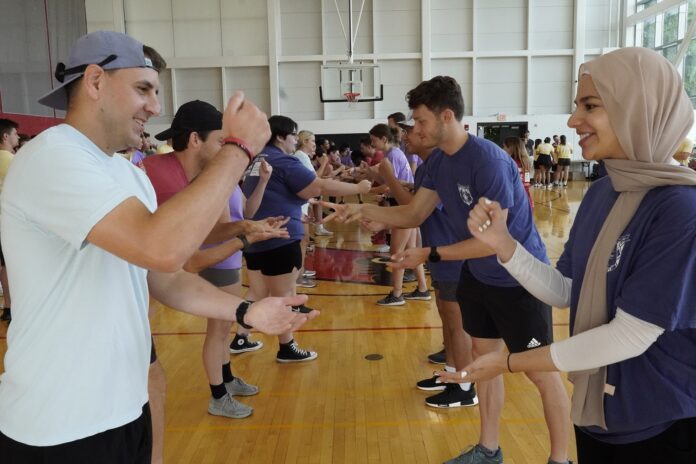 UofL medical students took time out for a day of friendly team competitions in various games during the 11th annual College Cup earlier this month at the Student Recreation Center on Belknap Campus.
Teams were based on the students' Advisory Colleges, which are assigned upon matriculation to the School of Medicine. The six Advisory Colleges are each named for a past School of Medicine dean or a significant historical member of the medical community.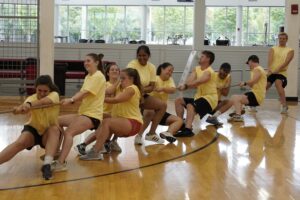 The College Cup event itself contains few activities requiring serious athleticism, but instead focuses on activating the mind, creativity and spirit. This year's events included dodgeball, tug-of-war, rock-paper-scissors, an art competition, a relay race, capture the flag, musical chairs and eating competitions.
"We try to host multiple events that aren't reliant entirely on physical strength and are welcoming to all sorts of people," said Cynthia Morse, coordinator of student programs at the college.
College Cup reminds students to have fun, take care of themselves, be social, be a part of a community, be a whole person and take breaks from studies to avoid burnout, Morse adds.
"The event is a comradery-building event to foster community among the [advisory] colleges that students are assigned to when they enter their M1 year. It is a great way to get to know people and share in a common goal," Morse said.
College Cup is one of several events over the course of the academic year involving the Advisory Colleges.
Indeed, the Advisory Colleges are a unique aspect of the School of Medicine, according to Tony Simms, director of student wellness for the School of Medicine.
"Few other universities offer such programs, so when we started it here in 2011, it was a big draw for students to have an automatic built-in support system," Simms said. "The Advisory Colleges focus on connecting our incoming students with upperclassmen. It fosters strong relationships and reminds students that wellness is extremely important while in medical school."
Participation in College Cup is voluntary, but this year saw nearly a quarter of the School of Medicine student body population compete.
"College Cup is a great way to showcase all the various talents and enthusiasm that ULSOM students have to offer, but more than this, College Cup is a time for first-year medical students to continue meeting their classmates and be encouraged by upperclassmen to remember there's a work-life balance to value when entering medical school," said second-year student Alexis Harris.
"My favorite part of College Cup is when there are events that whittle down to only a few participants, such as musical chairs/paper-rock-scissors tournament, and so the entire focus of all attendees shifts to one place and a few people — everyone circled around a small group of people. It is really fun to see the entire crowd cheering on the remaining participants, start chants and cheer on someone they just met a week prior," Morse said.
The winning team takes home the College Cup trophy and receives bragging rights for the academic year. This year, bragging rights will be shared by two colleges as there was a tie between Fitzbutler and Moore colleges. 
To view photos from the event, click here.