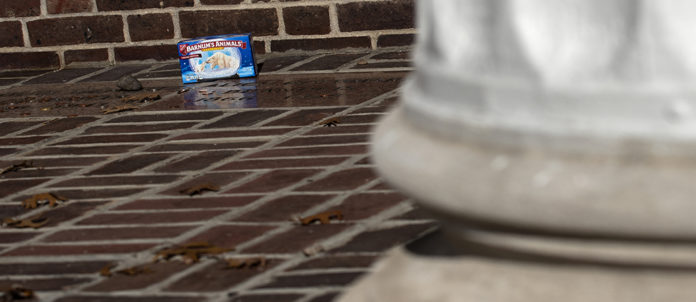 There are several interesting traditions at the University of Louisville (do NOT walk on the Cardinal bird!) and perhaps one of the most intriguing is the routine deference shown to Supreme Court Justice Louis D. Brandeis during final exams.
UofL's law school has been named after Brandeis since 1997 – a nod to his significant investment and his vision of building a "law school of distinction."
The Brandeis School of Law is home to much of his personal library, including rare texts on early civil and common law and his personal papers, compromising about 250,000 items.
After Brandeis' death in 1941, his last remains were buried unobtrusively beneath the portico. Later, his wife Alice Goldmark Brandeis was buried next to him.
Twice a year, you'll notice coins, stones and occasionally a box or two of animal crackers strewn across the graves. These tokens are found during the exam period, when students use them in hopes that doing so will bring them good luck.  
The animal crackers tradition began after Laura Rothstein served as dean from 2000 to 2005. Rothstein, who is a distinguished university scholar, gives an annual presentation about Brandeis' life and influence. She is well versed on his legacy, including his favorite food – animal crackers.
"After I gave one of my talks about Brandeis, a box of animal crackers showed up on the grave just before finals," she said. "That continues to happen every so often."
Of course, squirrels tend to find the crackers, but that doesn't deter anxious law students.
As for the coins, no one is really sure when this tradition began. David Ensign, director of the Law Library, started at the law school in 1989 and said this tradition was being done well before his arrival.
Also, occasionally you will see stones on the grave. According to Rothstein, this reflects the Jewish tradition of leaving a stone on a grave to indicate that the person has been remembered. Brandeis became the first Jewish Supreme Court justice at the time of his appointment in 1916.
Scott Campbell, technical services librarian and Brandeis scholar, has been at the law school since 1994. In 2009, he published a blog about this tradition:
" … a tradition has developed over the years of students placing pennies over the Brandeis' markers during finals week to ensure good luck. The tradition had nearly died a few years ago, but when self-described 'Brandeis groupie' Laura Rothstein arrived here, her proselytizing for Brandeis began to pay off, both figuratively and (in this case) literally. … The tradition seems to have evolved. There are still some pennies, but mostly now it's quarters and one person even threw in a Sacagawea dollar coin. … There were a couple of buttons and rocks (and an after-dinner mint!) …
One final note: One of things Laura always mentions in her presentations on Brandeis was his professed fondness for animal crackers. Apparently this is something else the students have taken to heart. If you look closely at the picture you can see the shredded remains of a couple boxes of animal crackers–all that was left of one student's offering after the campus' always ravenous squirrels got a hold of it."