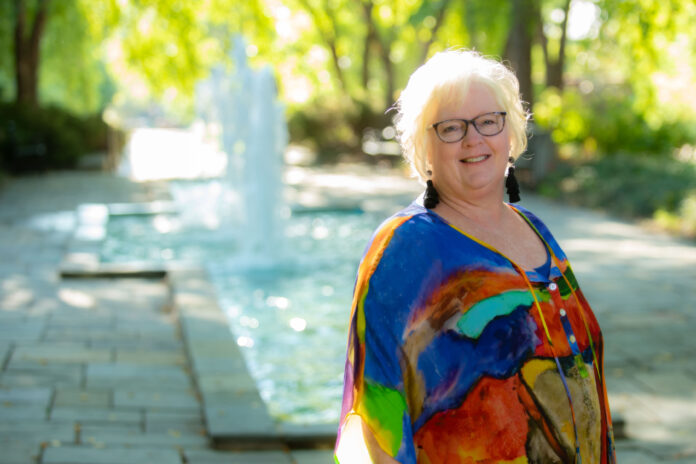 Tammy Lawson knows pretty quickly whether or not a student will be a fit for her UofL Ambassador program.
The university's visitor information manager has been interviewing first-year students for 20 out of her 30 years as a UofL employee, identifying a dozen or so each year who would be best suited to be the face of our campus – leading tours for prospectives and their families, providing information for visitors, guiding donors and dignitaries and more.
Her formula is simple: They have to be able to carry on a conversation with her and their peers.
"I can usually tell right away whenever I start a conversation with them during their interview. If they can talk to me about everything – sports, hobbies, lipstick color, whatever – I know they're going to be able to talk to parents and maybe set them at ease about sending their kids here," Lawson said.
Lawson started her UofL adventure in 1991 at the School of Nursing. Not long after, her job was cut so she stayed at home with her children. When her marriage didn't work out, she returned to campus, working for temporary services, then development, then environmental health and safety. All of those roles were part time.
She eventually found a permanent position at planning and construction, working for Ken Dietz and alongside others she calls "the best people I've ever met."
"I was so proud to be a UofL employee and now I was full-time. I had three small children, the insurance and benefits were amazing. Plus I had already met so many people I just loved at UofL and they felt like they were my family," Lawson said.
Still, she missed working directly with students. In 2001, an opportunity came up to be the assistant manager, tour coordinator through the Office of Communications and Marketing and she took it.
Little did she know that UofL family of hers was about to become much, much bigger.
"I knew I had to get this job and work with students again. I just had to," Lawson said. "I had to interview with a student panel and I was a nervous wreck. They were my first group of Ambassadors. I still talk to them."
In fact, she can recite what they all do professionally, where they live, whether they have gotten married or have had kids, and so forth. And she can do this about her first group of ambassadors from 2001, to her most recent graduates. She's been to their weddings – "15 or so" – and has met nearly all of their children.
"One of my students adopted my son's dog. My husband works on their cars," she said. "If you check my Facebook account, nearly all of my friends are former students of mine."
She boasts about some of her former ambassadors who are returning to campus as part of their professional journey. Former Central High School Principal Raymond Green, for example, was recently hired as the executive director of undergraduate programs for the College of Business. He is one of Lawson's former ambassadors.
Nick Peak, also one of her former students, was recently brought on as a policy and budget analyst at UofL. Dillon Miles, director of development, is also a former ambassador. So is Nakia Strickland, associate director of alumni relations. 
They don't all boomerang back to campus, however. Lawson's students have gone on to become lawyers, doctors, dentists, entrepreneurs, sports broadcasters – name it and chances are she'll beam with pride at their very mention.
"I had the first female athlete Fulbright student, Liz Halet. She was a swimmer. She is an attorney now. She was pretty quiet but once she started working here, she opened up and fit right in. All of my students are successful and special, but I don't care what they do for a living, I'm just so proud of all of them," Lawson said.
Lawson also admits the students have changed her. Despite their pleas, she used to not attend their graduations because it was "too hard to say goodbye." She eventually changed her tune after her own children graduated, and has since attended all of her ambassadors' commencement ceremonies.
"When they walk across the stage, I always get emotional. It all started to make sense to me. I had them for all those years and watched them study and struggle and now I was watching everything they had worked for and it made it all better," Lawson said. "I realized it wasn't a goodbye, but rather a part of their life they had completed. Since I keep in touch with all of them, I know now that is true."
Even after 30 years on campus, Lawson isn't yet considering retirement. She jokes to her students that they're stuck with her, but in fact it's because of the students that she wants to stick around. 
"I'd say I love the university but it's the people that make the university what it is. I love the job but I love the people who work with me," Lawson said. "I love the students. They're my babies."