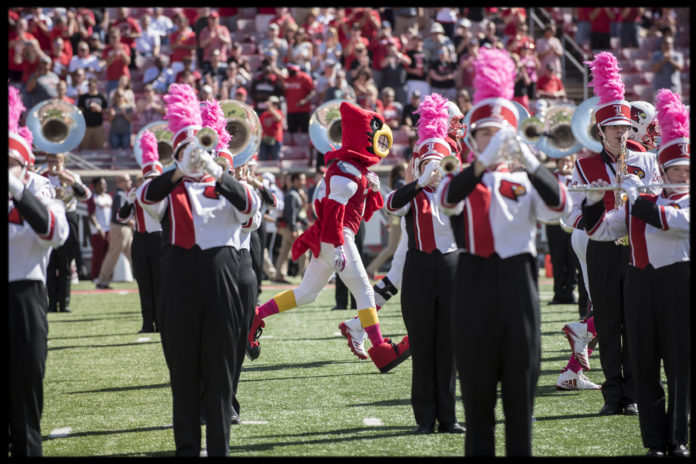 UofL photographer Tom Fougerousse estimates that he shot tens of thousands photos in 2017. He has chosen 114 of them for his Year in Pictures album.
From portraits and sporting events to buildings and research, Fougerousse has been looking at the University of Louisville behind a lens for 26 years now. This year included many familiar events, but also some extraordinary opportunities such as the solar eclipse. He's been collecting his annual favorites since 2009.
"Some I already have in mind because they stood out. But then when I go back through my files from the entire year, I try and pull ones in that people haven't seen yet," Fougerousse said. "My favorites usually aren't from the big news or big events that happened during the year. I like stuff that is different."
For example, in this year's album is a student looking at her phone and wearing just one shoe.
"I know the other shoe is there, but it's not in the picture. It was interesting when I shot it," Fougerousse said.
His definition of interesting is broad, as evidenced by a close up shot of the Speed Art Museum, which simply looks like lines in different shades of grey.
He likes pretty pictures, such as a photo of flowers in full bloom with Grawemeyer Hall as the backdrop, or the Student Rec Center at sunset.
"I just think that's a really pretty picture. I took that one from the roof of a dorm building," he said.
Fougerousse likes double exposure photos, such as a simple photo of a yellow traffic light or a group of musicians playing their instruments. He notes that he exposes the photos in the camera, and not on Photoshop.
Still, after all these years and all these assignments, Fougerousse's favorite pictures are always those with people in them, whether a portrait or an event.
"I like their reactions and emotions. When students are performing, there is a lot of animation and there are events that always have a lot of emotion and color, like the (annual Pan-Hellenic) step show and the International Fashion Show," he said.
Fougerousse also notes a black and white photo of Dr. Mary Craik, a local fiber artist, who was the 2017 recipient of the UofL Women's Center Empowerment Award.
"There is a lot of emotion in that picture. She was so happy and just so taken by the award," he said. "I like a lot of emotion when I'm shooting people. I'm looking for something out of the ordinary, not just someone sitting there. It makes it more personal."
More photos below. View Fougerousse's 2017 Photos of the Year online.