A new era in medical care for children will begin this June when the Novak Center for Children's Health at the University of Louisville opens to patients and their families.
A preview of the new 176,000-square-foot facility was held Thursday, May 31, for supporters and friends of the university, including the building's namesakes, David and Wendy Novak, their family and their foundation, the Lift-A-Life Foundation.
The retired CEO of Louisville-based Yum! Brands, David Novak headed the lineup of dignitaries launching the building's debut, including University of Louisville Board of Trustees Chair David Grissom, UofL President Neeli Bendapudi, and UofL Executive Vice President for Health Affairs Gregory Postel. Honored among the group were the Novaks' daughter, Ashley Novak Butler, for her leadership with the project along with others who played a role it: Tony and Lisa Christensen, the WHAS Crusade for Children, Bruce Henderson and Henderson Services, Lynnie Meyer and Emmett Ramser of Norton Healthcare, and the former vice president of advancement at UofL and current Kosair Charities President Keith Inman.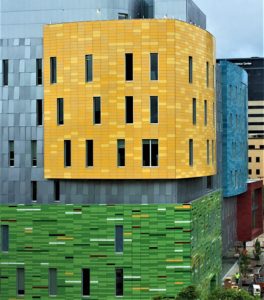 David Novak lauded the facility for creating the environment where a new paradigm of health care for children will be fostered. The Novak Center will house all general, specialty and subspecialty pediatrics services in a single eight-story building, meaning patients and their families will be able to have all their needs handled in one convenient location.
An anticipated 135,000 patient visits will occur annually in the new center – now one of the largest and most technically advanced pediatric outpatient centers in the United States.
David Novak noted the vision of the center: "UofL has the world-class minds; it needed a world-class center. It is so gratifying to be here tonight and see that we are on the cusp of opening a building that has the potential to impact generations to come."
"This magnificent facility promises to change how health care is delivered to our children with no child turned away from that care," Grissom said. "Its design for efficiency of care was not by accident; a number of UofL staff spent a tremendous amount of time exploring the best practices from throughout the nation and took the best of those to implement here in Louisville."
Bendapudi reminded the crowd that implementing such change takes ongoing support. 
"Progress cannot occur without generous support from our community," she said. "We could not be able to improve how health care is delivered to every child who comes to our door if it were not for the generosity of supporters such as the Novak family and the Lift-a-Life Foundation."
Postel outlined many of the building's features: "For too long, we have required our children and their families to move from building to building, office to office, to see all the providers who meet their health care needs. This facility changes that," with:
All pediatric providers in a single building to ensure a multidisciplinary approach in providing care
Innovative clinical and research programs that not only provide the latest advances in treatments and cures, but also create and develop them
An environment that enables staff to explore new initiatives, including holistic lifestyle approaches to diseases and conditions that impact children
A site where both basic and clinical research will be carried out and will help UofL attract new researchers as faculty
Enhancement of the education provided to medical students, residents and fellows, giving them first-hand experience with interdisciplinary learning they can take directly into the patient exam room
Designed for the patient experience
The total patient experience was at the forefront of the facility's design, Postel said. "In addition to the excellence in patient care provided here, we looked at the 'softer' touches – lit-up benches along the skybridge (connecting the building to the parking garage); using colors to identify floors so that no matter what language people speak, they can find the right floor; coding the floors with animals representing regional and Kentucky wildlife to pique children's interest, and much more."
Designed in kid-friendly colors, the facility features several public areas with soft seating and interactive screens to entertain children while they wait to see providers. But the waiting shouldn't be long, say UofL Department of Pediatrics providers: The latest in technological advances, the Real Time Locator System, will help move patients and providers to their appointments without lengthy wait times.
Also included in the facility will be the Wendy Novak Diabetes Center, created in 2015 with support from the Novaks and currently housed in the Children's Hospital Foundation Building. The Wendy Novak Diabetes Center provides comprehensive diabetes care as well as access to clinical research trials that sometimes are patients' only chance at diseases management and survival.
The services of the Wendy Novak Center will be augmented in the new facility with the addition of an up-to-date kitchen. "We are going to bring in the world-class chefs we have in Louisville to teach families how to prepare menus and foods that are diabetic-friendly and can actually improve lives," Novak said. "Some these chefs have diabetes themselves so they can speak and teach from first-hand experience."
The Novak Center for Children's Health will be staffed by faculty physicians practicing with UofL Physicians and will open for patient appointments in June. To learn more about the scope of pediatric health care at UofL, visit www.UofLPhysicians.org.
The budget to construct the new facility was $79 million. Messer was construction manager for the project. Photos from the May 31 ribbon-cutting event are available online.