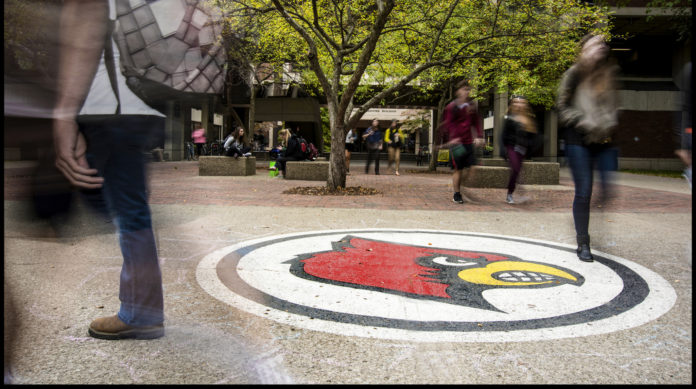 University of Louisville photographer Tom Fougerousse has curated his favorite pictures from 2016, showcasing a visual retrospective of a year that had it all – from the Cardinals' first-ever Heisman Trophy winner to a new College of Business initiative aimed at inspiring elementary students to earn their high school diplomas.
Fougerousse picked 87 photos for his annual "Favorites" collection. He started the project in 2010 when "everything started going digital." He adds his favorites to a folder throughout the year and then revisits all of his assignments at year's end to make sure he doesn't miss anything that stuck out.
His favorite shots are those with motion. He also likes shooting music and theater events.
"They keep me entertained while I'm working," he said. "But I always try to pick diverse styles for this project. There are still-lifes and portraits, too."
The subject, he adds, is what makes for an interesting picture.
"A lot of times, I've tried to shoot with a minimal depth of field so you know what the subject is in the photo or what I want you to see in focus," Fougerousse said.
Fougerousse explains a handful of photos from the latest "Favorites" project, including the cover shot of students walking around the Cardinal bird painted on a sidewalk on the Belknap Campus.
"This is a composite of two or three photos. It took a while to do. I like how it shows the movement on campus and I like how the people in the background are in focus," he said. The photos were taken with 2-second exposures, or "a slow shutter speed with a flash."
Professor James Grubola, from the Department of Fine Arts and the Hite Art Institute, shown drawing ballet dancers.
Cate Fosl, professor of Women's and Gender Studies and director of the Anne Braden Institute for Social Justice. "I like this one because she's working next to a photo of Anne Braden," Fougerousse said.  
Arts & Sciences portrait series for the "I Think, Therefore I …" campaign. Fougerousse said he liked the black background of these portraits, as it was dramatic and "something different."
Fiber Arts Studio series, including mannequins, baskets and other pieces of art. Fougerousse said he liked how these photos used a lot of negative background space.
The pendulum in Grawemeyer Hall. Fougerousse laid on his back underneath the swinging pendulum to capture the movement.
Brandeis School of Law Commencement. "I like the idea of the kids walking across the stage, too," he said.
UofL's Theatre production of "Fences." Fougerousse said this one especially sticks out now, since the movie adaptation of "Fences" is winning coveted awards.
Finally, UofL's quarterback and Heisman Trophy winner, Lamar Jackson. "I try to pick a couple of sports pictures every year, even though I don't shoot a lot of sports. With Lamar, you could tell he was going to be something special," Fougerousse said.
Fougerousse's entire "2016 Favorites" collection is available online.