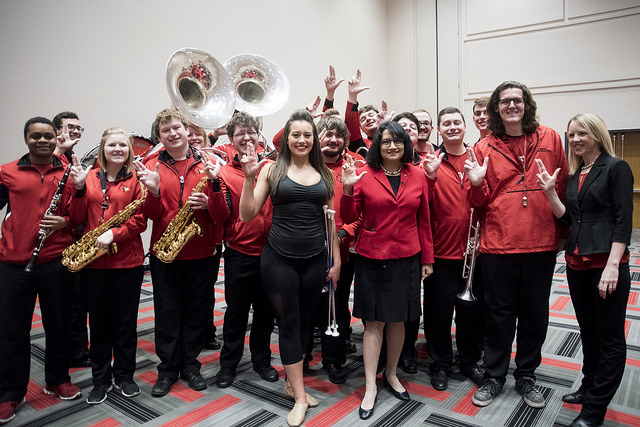 Dr. Neeli Bendapudi, who was introduced as UofL's 18th president last week, gave out her personal cell phone number to students during a welcome ceremony on the Belknap Campus. It's a tradition she started when she was dean of the business school at the University of Kansas. 
Though Bendapudi doesn't officially start at UofL until May 15, her early engagement with hundreds of UofL faculty, staff and students has been well received. 
"Dr. Bendapudi is absolutely the best fit for moving UofL forward to continued greatness. Her biography is striking: as an immigrant to this country, she learned early the value of public higher education and its transformative powers. She is an engaged faculty member, enthusiastic fundraiser, and a strong advocate for our students and the student experience," said Will Armstrong, chair of the Staff Senate. 
"I am not exaggerating when I tell you that the times I've had the opportunity to speak with her I have felt genuine electricity. Her enthusiasm is infectious."
Enid Trucios-Haynes, Faculty Senate Chair, said she "could not be more pleased" with the choice of Bendapudi as president. 
"I am so delighted that she wants to be here," she said. "And that she's the first woman and person of color to lead our school speaks out loud to our commitment to diversity and inclusion." 
SGA president Vishnu Tirumala tweeted that Bendapudi's appointment makes him want to stay in school instead of graduating. 
A number of Bendapudi's Kansas colleagues expressed their admiration for her via social media and on the record to local media outlets.
Sanjay Mistra, who teaches in the business school at Kansas, described Bendapudi to the Courier Journal as an "enthusiastic go-getter who sets big goals and works very hard to achieve them." Mistra also pointed out Bendapudi's fundraising prowess, noting that she led an initiative to build the $70.5 million Capitol Federal Hall on Kansas' campus. 
On Facebook, Eric Pahls commented: "As a Jayhawk, I cannot tell you how great of a selection this is. While we will dearly miss her, our loss is your gain. She is a gifted leader." And, on Twitter, a number of Jayhawks expressed their gratitude for Bendapudi's leadership: 
"Neeli is absolutely amazing. She cares so much about students here at KU and in every interaction I've had with her she's been so genuine. I'm so sad to see her leave KU but I'm glad she's getting the recognition she deserves," Katherine Riedel tweeted.
"I've been affiliated with KU in some form for 31 years and would be hard pressed to name a Jayhawk who represents us better than (Neeli Bendapudi). UofL got a good one!" – Nick Kallail
When she was introduced last week, Bendapudi told the UofL community that it "is not about any leader having the magic bullet or having the secret sauce. It's about helping me help you to make sure our best days are ahead.
"I so appreciate your trust and the confidence you've placed in me and I give each of you my word, I promise you. Every single day, every single moment – in big things and small – I will try to do my very best for this university."
Check out some behind-the-scenes footage from her whirlwind introductory week below. Additional photos from the Belknap and HSC welcome ceremonies are available online. 
Video by Mark Hebert.