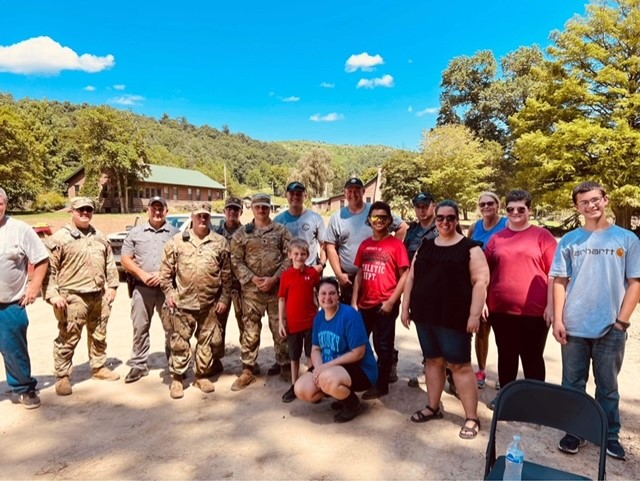 During the last week of July, extraordinarily intense rainfall led to flash floods across 13 counties in Eastern Kentucky, resulting in 39 deaths and massive property damage to homes, businesses and infrastructure. Chelsea Miceli, a program coordinator for the UofL Trager Institute and the Republic Bank Foundation Optimal Aging Clinic, alumna of the Kent School of Social Work and Family Science and resident of Whitley County, quickly found ways to help flood victims in Breathitt, Knott and Perry Counties, providing hot meals to residents, securing oxygen for displaced individuals, assisting national disaster relief organizations and more.
Now she is creating a sponsorship program to assist area children with clothing and supplies once they can go back to school.
UofL News talked to Miceli about her efforts, the support she has received and what needs still exist in the flooded communities.
UofL News: How have you been able to help those affected by the July flooding?
Chelsea Miceli: My work has varied greatly from day to day. I have assisted in coordinating hot meals to remote communities. I have prepared meals and delivered them door to door. I have taken up donations and delivered them to homes throughout Knott, Breathitt and Perry Counties. I helped find individuals to sponsor a Perry County High School football player who lost all his sports equipment. I worked with national disaster relief food organizations to create hubs for food pickup for those that still do not have access to roadways. I connected the shelters to resources to get oxygen for those staying in the shelters. I assisted in finding a location for a birthday party for a young girl that lost everything. I assisted in connecting affected individuals with showering and laundry services. The Trager Institute and Republic Bank Foundation Optimal Aging Clinic staff and I worked to coordinate services for the Deaf and Blind community that is being sheltered at Hindman Settlement School.
UofL News: What makes the work personal for you? 
Miceli: As a resident of Whitley County who has family members across Eastern Kentucky, I understand the value of Appalachia and the history surrounding the culture which makes these individuals and their families so strong. When the recent flooding disaster hit in Eastern Kentucky, I knew I could not sit idly and watch those that I have an obligation to serve suffer alone.
When a disaster of this magnitude takes place, it is an immediate call to help your neighbor. Given my connection to this region and these communities, this work is very personal to me as I understand the geographic remoteness of this area of our state. These communities already face structural and systemic inequities such as generational poverty and trauma, oppression and a lack of resources in rural areas, and this disaster will only exacerbate these challenges.
These are my people, the people that I want to serve, the people that I feel could most benefit from additional services, the people that I know need advocacy and the people I know that are appreciative of the simplest act of kindness.  
Living and working in this region, I know that the communities of Eastern Kentucky are tough and resilient people, yet we all need help from time to time. I have delivered supplies and food to homes where people have said, 'I hate to take it if someone else could use it more than us.' The culture of wanting to work for what you have and always lending a helping hand is something that is instilled in our communities from birth.  
UofL News: What specific skills and experiences have helped you in this work?
Miceli: As a recent graduate from the Kent School and now a Trager Institute and Republic Bank Foundation Optimal Aging Clinic employee, my educational and professional background has instilled in me the value of taking action. During my time in the MSSW program and as an intern, I learned the importance of trauma-informed care and the long-term implications that you can have on someone's life through acknowledging what they endured.
Throughout my time helping in Eastern Kentucky, my main goal has been to offer dignity and worth to individuals who have lost everything. Taking the time to stop and hear their stories and let them know that someone is there for them and is working with them is the best service anyone can offer.  
UofL News: How has your position at UofL and hat connection been helpful?
Miceli: As a program coordinator with the Trager Institute and Republic Bank Foundation Optimal Aging Clinic, I develop and facilitate services, provide education, training and supervision to our student interns and facilitate collaboration and services with partnering sites across Eastern Kentucky for our projects funded by Health Resources & Services Administration grants. One of the core missions of these projects is to provide workforce development and services to rural communities across the state.  
The team has been instrumental to my flood relief work. I have reached out numerous times needing assistance in identifying contacts and resources to provide services to these individuals. Without hesitation, they connected me to individuals and organizations that could assist with high priority needs of the communities including oxygen, hearing aids and sign language interpreters.
The staff has gone above and beyond to help me serve these individuals, most of whom they will never see nor meet. Without their help I don't know if my work in Eastern Kentucky would have been as fruitful.
Our partner sites across Eastern Kentucky have faced many challenges during this time as well, primarily Mountain Comprehensive Health Corporation. However, any time I picked up the phone and explained a need they were quick to act and put me in contact with individuals and resources to resolve the issue.  
UofL News: Tell us about your project to gather supplies for students as they go back to school.
Miceli: I am working to create an 'Adopt-a-Student' sponsorship program. We will ask sponsors to purchase a backpack, clothing essentials (e.g., socks, shoes, underwear and two outfits), along with basic school supplies to be distributed to students in Knott County when they are able to return to school. With so much uncertainty surrounding when school will begin, this gives us time to begin gathering items in hopes that as students return, they will not have to worry about having school clothes and supplies. Given the financial hardship the parents are already facing, between clean-up costs and restarting their lives, the goal is to relieve some of the burden on them as well. This program's goal is to let the students and parents start this school year without additional stressors during this trying and difficult time.
An Amazon wish list has been created for school supplies for the students. To contribute to the Adopt-a-Student program, contact Miceli.