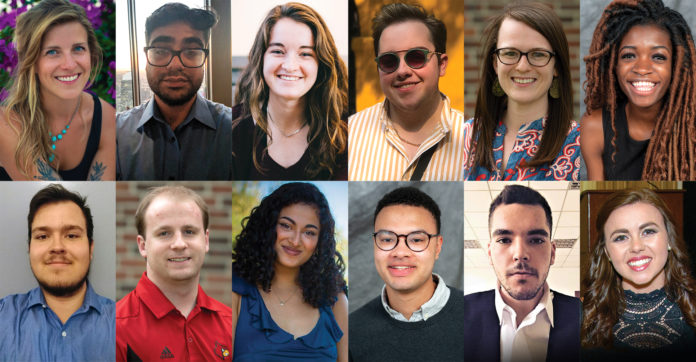 A dozen UofL alumni have earned 2019 student Fulbright scholarships, a prestigious international award coveted by many high-achieving scholars.
The university has had outstanding results as a producer of Fulbrights. Since 2003, there have been 133 Fulbrights, more than all other Kentucky public institutions combined.
Students and recent alumni also earned many other competitive awards this year. There were five Critical Language Scholars, two Goldwater Scholars and one Rotary International award winner. Five students received Boren Award offers, but three had to decline this scholarship because they won two or more awards.
One such scholar, Ben Anderson of Louisville, may be the most-awarded student in university history. The Brown Fellow, Ali Scholar and Porter Scholar awardee won, this year, a Fulbright, Boren and Critical Language scholarship. The recent graduate and political science major decided to accept the Fulbright. He will spend the summer in Taiwan as an English teacher.
"When I heard that we had so many winners of prominent awards—including a dozen Fulbrights—I marveled at how we are able to achieve such high honors year after year," said President Neeli Bendapudi. "We have an astounding track record as a producer of top scholars and I'm so proud of our incredible students, faculty and staff because they all work together to make this possible."
Charlie Leonard, interim director of the Office of National and International Scholarship Opportunities, said the university's culture has become attuned to seeking out academic superstars who are candidates for prominent awards.
"It's a system that has been in place here for years with lots of buy-in from faculty and staff who recommend students and are eager to help them in the interview and writing workshop process," said Leonard. "Plus, we have extraordinarily strong support from upper administration."
He said it is noteworthy that five of this year's awardees earned research-focused Fulbright awards.
"This has been a good year for our Fulbrights who plan to conduct research," he said. "I think that may be a result of our efforts to promote undergraduate research at UofL and we hope that trend continues."
Fellowships coordinator Bethany Smith, who works closely with student and alumni scholarship candidates during and after the application process, said about 30% of UofL students who applied for the 2019 Fulbright received the award—a statistic that has been fairly typical for the past few years.
"That's an impressive statistic," said Smith. "Few institutions can claim such good results and it is indicative of our success in identifying and mentoring potential awardees."
To see a full list, including biographies and photos, of UofL's 2019 Fulbrights, click here.