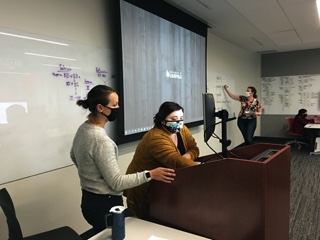 By the second semester of Erin Nicole Meade's freshman year, the University of Louisville student had already switched her major twice—and still wasn't sure she was pursuing a degree in the right field.
Meade's academic adviser suggested she consider UofL's elective Personal and Academic Inquiry seminar, designed to help undecided second-year students identify their strengths and academic goals. Hopeful that it might point her in the direction of a potential career path, Meade decided to take the course during the fall semester of her sophomore year.
"I was consumed about which direction I needed to go in," she said. "I was looking forward to getting time out of my week to sit down with people who could help me figure out what would be best for me. I went in hoping to move closer toward that goal."
The seminar, first offered in spring 2018, is the central component of UofL's Find Your Fit (FYF) program, an initiative launched in 2017 to address the specific needs of those undergraduates deemed "exploratory" (undecided on a major, or not yet admitted to the school or college of their choice), or those who are seeking to transition out of a major and struggling to find a good fit. FYF is the university's Quality Enhancement Plan (QEP), an experimental five-year initiative focused on improving student success that the Southern Association of Colleges and Schools (SACS) requires all higher education institutions to develop as part of their reaccreditation process.
Students who participate in the FYF Personal and Academic Inquiry course meet for an hour and 15 minutes twice a week to make progress on academic inquiry projects that spring from the academic theme of each section. Alongside these projects, students work with closely with the designated advisor to engage with, and interpret, personal assessments, such as the StrengthsFinder inventory, and participate in an array of self-exploration exercises and activities.
The COVID-19 pandemic has underscored the relevance of the Find Your Fit seminar. Some students are feeling uncertain about their major or career plans in this new landscape of the pandemic. Despite the changing environment, the team of campus instructors in the FYF program continues to support students in both virtual and face-to-face environments.
The seminar is led by a three-instructor team comprised of a UofL faculty member, an exploratory and transition advisor, and a librarian. Students use the library and other university resources to research areas of interest with ongoing support from the instructional team.
Each instructional team provides a good mix of perspectives, according to Kimcherie Lloyd, professor and School of Music director of orchestral studies, opera theater and undergraduate studies. Lloyd uses music in class to initiate discussions and pique students' interest in learning more about various topics.
"Music has nothing to do with what their career choices should or might be; it's just something to start a conversation about their interests," she shared. "It's immediately easier to have a discussion because everybody has likes and dislikes and opinions. The class uses music as a vehicle to help them develop questions and start on research."
Robert Detmering, associate professor and information literacy coordinator at the University of Louisville Libraries, currently serves as a member of one of the instructional teams.
"The intent is to help exploratory students who are maybe having trouble finding out where they're situated in the university, in terms of a major, but also in terms of the community and relationships they have on campus," Detmering said. "Find Your Fit is designed to help students think through where they're at in life, what their goals are, and help them go through a research process that's personally meaningful to them."
Tracking down answers to questions raised in class can help students grow comfortable with the research process.
"Sometimes people feel uncomfortable asking questions or feel like they should know how library research operates and maybe aren't sure how to go about getting help," Detmering said. "In a class like this, we're able to work closely with students and show them resources that exist and how to use them."
By the end of the course, instructors have found that a number of students are able to identify a few potential career choices, which UofL advisor Jessica Newton—who has served as an advisor on multiple instructional teams—views as a success.
"Everybody is at a different place," she said. "Some have found a path and have a better idea where they're going, while some are still unsure and are working on it. My goal is just for them to come away from the course at least knowing what resources are available. Really, my entire role is to facilitate the decision-making process. That starts with getting to know yourself really well and examining your values and strengths.
For Meade, the experience was transformative. An in-class exercise matching students' values to corresponding jobs suggested clinical psychology might be a potential option for her; later reading about a storytelling-based method of therapy during a class research project inspired Meade to craft an individualized major involving psychology, creative writing, and women and gender studies.
"I just understood at that point what my strengths were and what that could do—what I wanted to do," she says. "I really enjoy creative writing. English is something that's my strong suit, and mental health has been something I've been passionate about. I couldn't for the life of me figure out how to combine those things [before the class]."
Meade is now on track to graduate a semester early and plans to go to graduate school to become a clinical psychologist, with the ultimate goal of offering writing-based therapeutic services.
The Find Your Fit QEP initiative is an opportunity to foster a campus-wide conversation about student learning and success in the crucial second year of undergraduate studies. The FYF team is always looking for instructional members to join this unique experience and initiative at UofL. More information is available online.