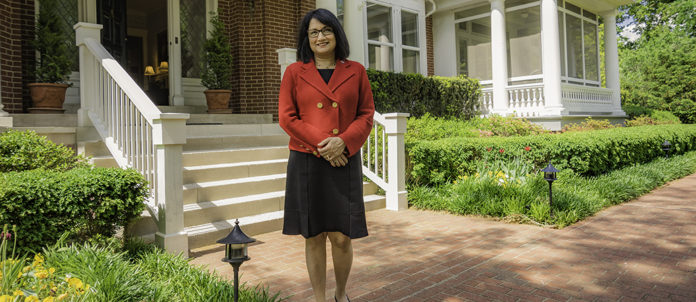 Editor's note: This story has been updated to reflect President Bendapudi's announcement that she is donating her approved 12% salary increase back to UofL. 
Neeli Bendapudi has been "better than advertised" during her first year as president and has had an outstanding year, according to the UofL Board of Trustees.
The board evaluated the president's performance during a special meeting to address several topics Thursday.
Board chair David Grissom praised Bendapudi for improving morale on campus and building support for the university in the community. He also lauded her efforts to build partnerships such as the IBM partnership announced in April, and he praised her "strength and grace" in dealing with tough issues, including the decision last summer to take the Papa John's name off Cardinal Stadium.
Grissom also noted that Bendapudi has "encouraged the entire campus to join in building a better university" by including faculty, staff, students, alumni and friends to participate in the university's strategic planning process.
"She clearly is deserving of our praise and financial commitment," Grissom said. "We hope to keep her here for a long time."
Faculty trustee Krista Wallace-Boaz praised Bendapudi's efforts to communicate with faculty, staff and students and to follow through on commitments she has made to those groups. Staff trustee John Smith pointed out that more than 1,400 people volunteered to work on the university's strategic plan – "a tangible result of her efforts to engage the campus."
Trustee Ron Wright added that Bendapudi has been a "beacon of light" that is encouraging him and others to see "better things coming in the future."
While board approved raising her annual salary from $650,000 to $725,000, with potential for a $150,000 performance bonus, Bendapudi announced in a tweet Thursday night that she is donating that 12% increase back to the University of Louisville. 
Also at the meeting, the board approved degree candidates for the spring semester. More than 3,200 UofL students will receive degrees, and more than 2,100 are expected to march in commencement ceremonies this Saturday.