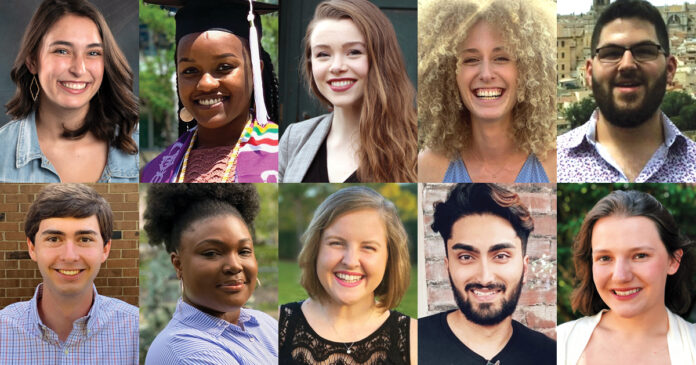 Editor's note: Since this initial news was announced in July, UofL has added another Fulbright Scholar in alumnus Alex McGrath, bringing this year's total to 22 students. Twelve of those Cardinals were selected for the U.S. Student Fulbright Program.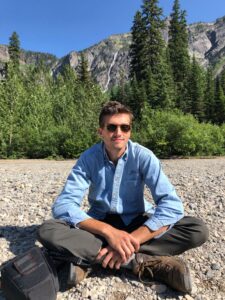 McGrath graduated in May 2020 with degrees in English and philosophy and will be an English Teaching Assistant in Spain. The Louisville native also plans to explore the local music scene and offer music lessons during his time overseas.  
The original story published in July is below.
The University of Louisville continues its strong showing in national and international scholarships and fellowships with 21 students receiving offers to attend prestigious programs around the globe.
This year's batch includes 11 Cardinals selected for the U.S. Student Fulbright Program, the third year in a row UofL has racked up Fulbright offers in the double digits.
"I continue to be amazed at the number of prestigious scholars produced by this university each and every year," said UofL President Neeli Bendapudi. "Nothing makes me more proud than seeing our students achieve such great honors and knowing that our faculty and staff are so supportive of their efforts."
With individual country programs in flux due to the COVID-19 pandemic, some offers might be curtailed or postponed, and some alternates typically receive offers to join the program, so numbers won't be finalized until later this calendar year. At any rate, officials expect that, including this year, more than 140 UofL alums will have received Fulbrights since 2003–more than all other Kentucky public institutions combined.
"We're so proud to see UofL's incredible students earning recognition and pursuing exciting opportunities," said Bethany Smith, fellowships coordinator with the Office of National and International Scholarships, "and as always, a key part of the process has been the involvement of faculty and staff who recommend and mentor students and serve as campus interviewers."
"The performances of our students and alumni stack up against those of many top-tier schools, including those in the Ivy League and at other highly-ranked public flagships," said Charlie Leonard of the Office of National and International Scholarships.
Students and alumni earned other prestigious, competitive awards this cycle. All are noted below.
Fulbright Awards
The Fulbright U.S. Student Program offers research, study and teaching opportunities in more than 140 countries to recent graduates and graduate students. Administered in the U.S. by the Department of State's Bureau of Educational and Cultural Affairs, the Fulbright program was established in 1946 to promote international goodwill through education and cultural exchange.
Fulbright English Teaching Assistantships (ETA)
 Fulbright Research/Graduate Study Awards
Boren Scholarship
The Boren Awards, sponsored by the U.S. National Security Education Program (NSEP), provide undergraduate and graduate students in all fields of study with funding for up to one year of immersive study abroad in languages and regions of interest to U.S. national security.
Critical Language Scholarship
The CLS program provides opportunities for overseas language and cultural immersion for students interested in critical languages that are essential to the United States' engagement with the world.
Rotary Global Grant
Rotary Global Grants support humanitarian work, scholarships and vocational training projects aimed at building international relationships, promoting peace and improving lives.
English-Speaking Union KY Branch Summer Scholarship
The English-Speaking Union is a nonprofit educational service organization. Its summer study abroad scholarships for college juniors and Kentucky teachers are intended to promote the advancement of knowledge in an expanding global community.
Moore Undergraduate Research Apprentice Program
The Moore Undergraduate Research Apprentice Program is a paid summer fellowship designed to foster the entrance of talented students from diverse backgrounds within the humanities, social sciences and fine arts into academia.
Mary Churchill Humphrey Scholarship
The University of Louisville Centenary Memorial Scholarship enables graduates of the College of Arts & Sciences to pursue advanced study in the United Kingdom.
2020 NASA DEVELOP Program
DEVELOP address environmental and public policy issues through interdisciplinary research projects.
More information about UofL's prestigious scholars is available online here.